Launch a WordPress Website on WPEngine
In this thrilling rendition of WPLauncher Launch Guides, we will share with you everything you need to go from zero to launching a WordPress site on WPEngine.
Who It's For:
Rated E for Everyone!
For Reals, from beginners to Pro's this How-To Guide rules
Anyone that's awesome
What You'll Get:
Awesome Step by Step Videos
Easy to follow Step by Step Text instructions
Weekly Live Webinars
Access to the awesome WPLauncher Community
MOST IMPORTANTLY – Launching a WordPress website on WPEngine
What You'll Learn:
Setting up and Installing WordPress
Installing a WordPress Theme
How to use WordPress
How to Launch a WordPress website on WPEngine
Online Launch Guide
$

FREE

Per Month
Want to start building your
website right now?
Don't want to wait for the webinar?
Get Started now!
&nsbp;
30 Minutes
ESTIMATED WEBSITE LAUNCH TIME
So hopefully you've crapped your pants, in a good way, when you saw how much our awesome LIVE Launch Webinar and Online Launch Guide costs (They're Free!). Now let us tell you a little bit more about the 2 ways you can go from zero to launching a WordPress website on WPEngine in 30 minutes or less.
LIVE Launch Webinars
Every week we offer Live Webinars where we walk you through building and launching your own Ecommerce site from start to finish.
All you need to do is show up and follow our step-by-step process. By the end of the webinar you will have a fully functioning Ecommerce website where you can start selling your own products immediately!
Online Launch Guide
Missed the webinar? Don't want to wait for the webinar?
Follow our step-by-step online How-To Launch Guide where we walk you through building your Ecommerce website. Our online How-To Launch Guides offer both video and text versions depending on your learning style.
Follow our step-by-step process and by the end you will have a fully functioning Ecommerce website where you can start selling products immediately!
"Dude WPLauncher blew me away, pun intended. Perhaps the most fun I've ever had doing stuff. Plus I walked away with a brand new website."

− Lee Shadle | Los Angeles, CA
About Our Launch Technicians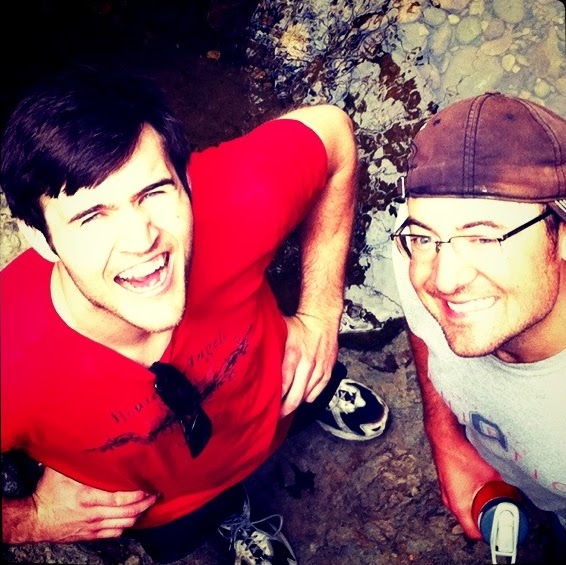 That's Ben there on the left, and Lee on the right. We were hiking in the Pacific Palisades near our homes in Santa Monica, California.
We can't say enough about our technicians for this launch guide. They are perhaps the coolest, awesomest people you'll ever meet! OK you caught us, we are the founders of WPLauncher and we'll be guiding you through your website launch.
Our names are Ben and Lee Shadle, we're brothers and we're developers that run a web development shop. Our specialties are building WordPress websites, obviously, and custom PHP websites. Lee does the frontend design and development and Ben does the backend architecture and development. We've been building sites for clients for over 4 years now.
We started WPLauncher because we saw a huge need for high quality websites at an affordable price. When we build a site for a client it can cost anywhere from $3,000 up to $100k+. While this is great for us there are many times when it's just too expensive for someone's budget. That's why we believe so strongly in WPLauncher. We want everyone to have the opportunity to have an awesome web presence at an affordable price, and it doesn't get much more affordable than free! So get started now!!
How are these Launch Guides FREE?!
Great question! So we've spent a ton of time and money boiling down the WordPress development process to it's essence over the past 4 years. The Launch Guides we offer are a culmination of those years of collectively banging our heads against a wall, and let us tell you, OUCH, we've got the bumps to prove it! Unfortunately, we do still need to make money to pay the rent, eat food, and pay the bills. We do this by getting paid affiliate fees from hosting companies, domain registrars, and theme marketplaces.
It is very important to us that we only recommend products and services that we actually use. We will NEVER recommend any product or service that we don't use and haven't fully vetted. We recommend, and use, two hosting companies exclusively WPengine.com and Dreamhost.com. This website is hosted on WPEngine.com and the theme we used is the Salient theme from Themeforest.com. Feel free to use any hosting company, theme, or domain registrar that you'd like but keep in mind the products and services we recommend are the best we've found, tested, and used for countless clients of all shapes and sizes.