Why pay full price?
Use a WPEngine coupon code and get a BIG discount! WPEngine doesn't have to be so expensive and using a coupon means you get more money in your pocket.
WPEngine's pricing can sometimes cause me to do a double take because they're not cheap.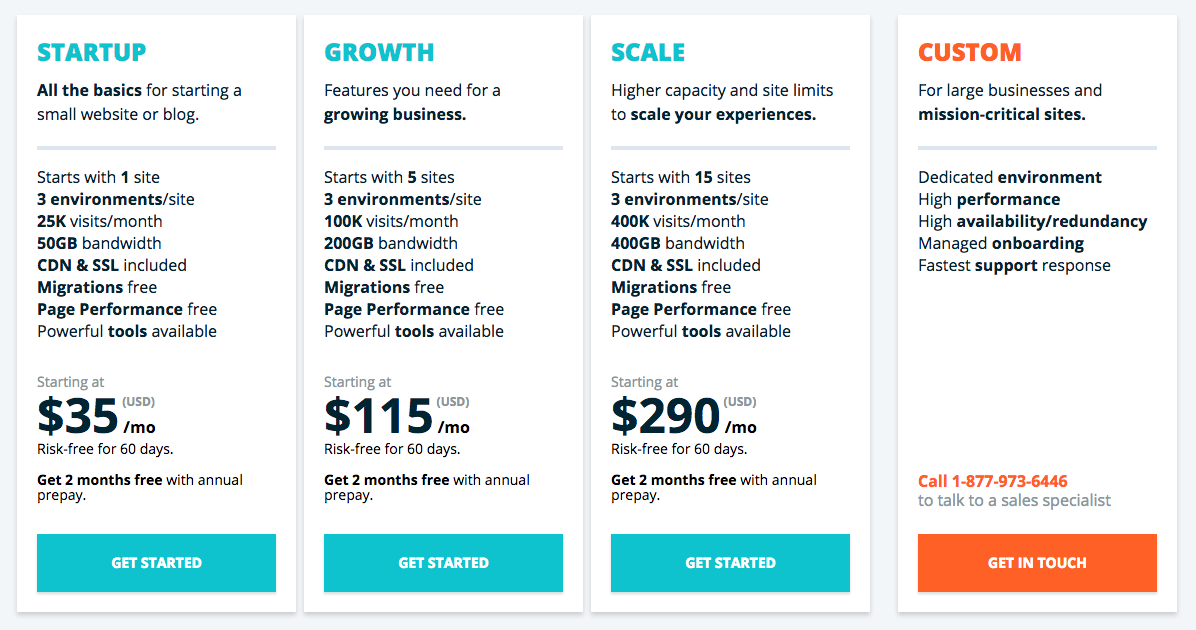 If you look at the image above you'll notice that the lowest priced option is $35/month and then it gets exponentially higher at $115 and then $290.
How do I use the Coupon Code?
Scroll down to the WPEngine Coupon Codes section below and click on one of the buttons. It will take you to WPEngine's checkout page where you will see your discount. It doesn't get much easier than that!
WPEngine Coupon Codes
4 Months FREE
Annual Plan
20% OFF
Monthly Plan
4 Months FREE
Annual Plan
20% OFF
Monthly Plan
4 Months FREE
Annual Plan
20% OFF
Monthly Plan
SAVE EVEN MORE MONEY!
Don't host your WordPress website with WPEngine
YOU CAN DO BETTER!
Our Hosting Platform offers very similar perks to WPEngine for almost half the price! Instead of WPEngine's $35/month or $28/month annually, you'll pay $20/month or $16/month annually with WPLauncher's Startup Plan, that's $228 IN SAVINGS! You can also save $368 off of WPEngine's Growth Plan, if you purchase WPLauncher's Premium Plan. We make use of cutting edge technology to make your WordPress site faster than ever. We offer daily backups, restore functionality and staging and production environments. Try us out and see how much faster your site is, and how much heavier your wallet is; we'll transfer your site over to WPLauncher for FREE. See some of our countless additional benefits resulting from putting your website on our platform by clicking the button below.
We will migrate your site over to our platform for FREE.
In addition to our hosting product, you will get FREE custom email addresses for your domain and gain access to tips for new ways to engage your audience and increase conversion rates. There is nothing sweeter to us than helping our clients get more sales.
You can earn recurring revenue off of your clients that use our platform.
We have best in class customer support and try to make the customer service process fun wherever possible.
We also have proprietary backup and restore processes that will drastically reduce the headaches you will experience throughout the life of updating your site.
Your server is hosted in the cloud on a Virtual Private Server, the same cloud that companies like Netflix and Amazon use.
Save $228 with WPLauncher's Startup Hosting