If you just uploaded a bunch of files to a WordPress site via FTP and don't see those files in your WordPress media library, we know just what you want. You want to add the uploaded files to the media library in your WordPress dashboard! Adding uploaded files to your WordPress site's Media Library involves simple 3 steps:
Step 1: Install and Activate the Add From Server Plugin
Login to your WordPress dashboard, hover over Plugins in the left side, and click Add New.

Type in Add From Server in the search box and click Install Now on the box that looks like the following with over 100,000 downloads.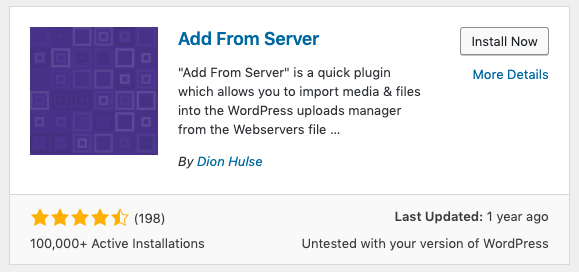 Then, click on the Activate button to activate the plugin on your WordPress install.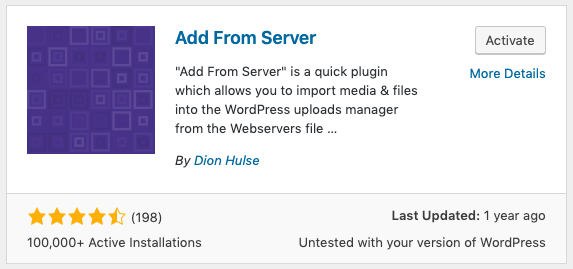 Step 2: Navigate to the Uploads Directory and Import your files
Hover over Media and click on Add From Server.

This next step depends on where you uploaded your files. In my case, I uploaded files to wp-content/uploads (as this is the standard place to upload files in WordPress). So, I'm going to click on the Content Folder link (next to Quick Jump) and then I'm going to click on the uploads/ link that shows up (see the image below). This allows me to navigate to the wp-content/uploads folder.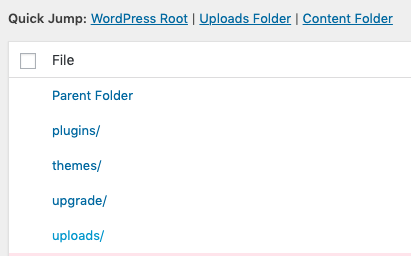 Then, I'm going to navigate to the subdirectory within the uploads folder that contains all of the files that I just uploaded (in my case, this is 05).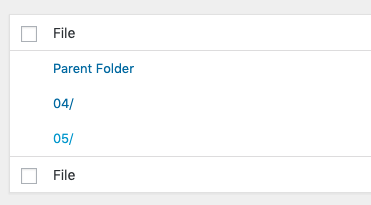 Now that I am in the folder that I just bulk uploaded files to, I need to select all of the files that I want to add to the media library. I want to add all of the files so I click on the checkbox at the top left.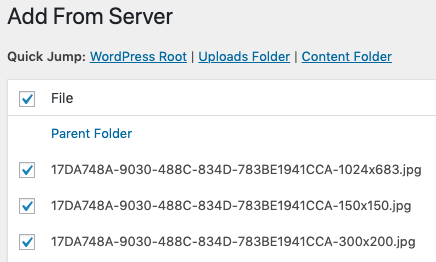 Make sure to select the time you want to be associated with the file and click on the import button at the bottom of the page.

Once the import has been completed, you should see something like the following that shows you all of the different filenames that have been added to your Media Library.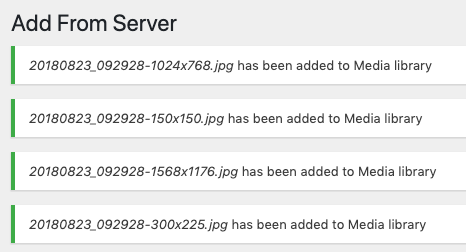 Step 3: View Uploaded Files in your Media Library
Now that you imported your uploaded files using the Add from Server plugin, you should be able to see these files in your Media Library. To check this, login to your WordPress dashboard and click on Media in your left hand sidebar.

Then, check out your beautiful new images!!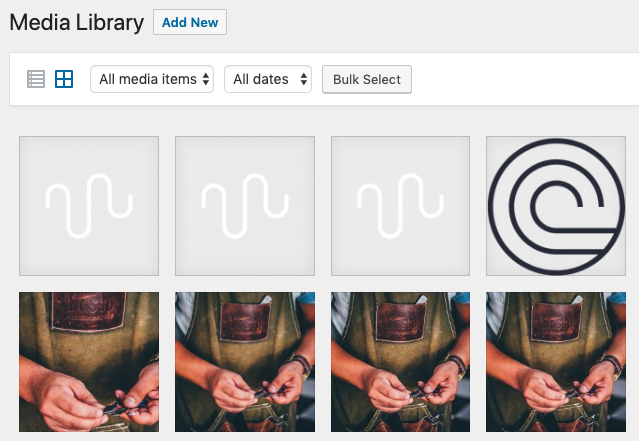 Because I don't plan on bulk uploading files to the Media Library in the future, the Add From Server plugin is a single use plugin for me. So, I deleted Add from Server from my WordPress site. If you plan on adding uploaded files to your Media Library in the future or mass uploading files to the WordPress Media Library, feel free to leave it on, but I like to have as few plugins as possible to limit any security issues and to keep the install as clean as possible.
That's all there is to it. Enjoy having your uploaded images in your WordPress Media Library :).