Now that you've purchased the host that is right for you, let's move onto: How to Get a Domain Name for Your WordPress site (and in our opinion it's prettyyyyy awesome and much more fun than the previous steps).
If you already have a domain name, feel free to skip this step. But, you'll miss out, because we've shared some really cool resources that we use for finding just the right domain name.
Again, you don't need to know what a domain name is, but in case you are dying in anticipation and can't breath until you know – calm down we'll tell you geez :).
What is a Domain Name?
We like to compare a domain name to your home address. Whenever someone wants to come to your house, they need your home address. If they don't have your home address, they won't ever get to your house – they will run around in circles and won't know where to go and will explode. But seriously, this is very similar to what happens when someone wants to visit a website but doesn't have a domain name – they can't ever reach it, and they explode. A domain name makes the website on your server (your host's computer) accessible to everyone looking around on the internet.
Finding the Perfect Domain Name?
In order to get people to your website more often, it's very important to choose a simple domain name that is memorable and easy to pronounce. What is better, supercalifragilisticexpialidocious.com or google.com?
I'm sure that you've thought about the different domain names that you like, and that represent your website. But, in order to properly explain the different tools that we use, we'll start from scratch using an example.
My brother Lee and I are always scheming and coming up with domain names that we like and ones that we think would work really well for some of our bajillion ideas. Our newest idea is to launch a WordPress site that displays different website templates that we build – whether they be WordPress templates, LeadPages.net templates and raw HTML templates.
LeanDomainSearch.com Rules for Finding Unique Domain Names!
We don't know what domain name we want to use to start, so we begin by brainstorming different words that would explain what we do. We also want a domain name that says who we are, that is easy to remember, and is consistent with our WPLauncher brand.
Here's a list of keywords that we came up with:
template
view
launcher
front end
design
We took these keywords and ran them through leandomainsearch.com to see what domain names are available using those different keywords. Check out a screenshot of the page when we used template as the keyword:[/vc_column_text][divider line_type="No Line" custom_height="40″][vc_column_text]
Domainr.com also Rules for Finding Domain Names!
Within this gigantic result set, we found a domain that we really liked and it was called (WAIT FOR ITTTTTT)……… TemplateLauncher.
We clicked on TemplateLauncher and saw that TemplateLauncher.com was still available. Our next step was to see if there were any other versions of TemplateLauncher that we liked better than templatelauncher.com. So, we went to domai.nr and typed in templatelauncher. As you can see from the below image, they gave us results with many different types of endings.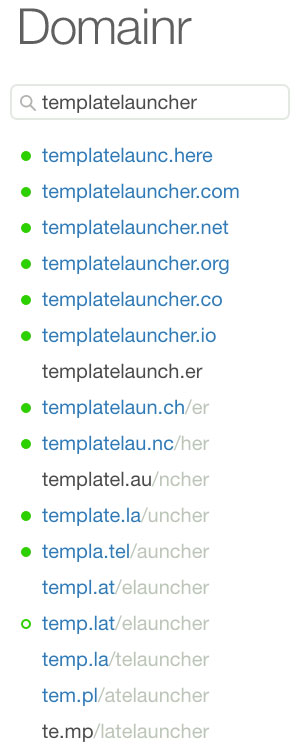 After looking through this list, we thought templatelaun.ch was cool but we still liked templatelauncher.com the best. So, now that we have taken the time to check domain name availability and discovered it was available, it is buy web domain time! Let's purchase domain name (in our case TemplateLauncher.com) and do it quickly before someone else grabs it!!
If you purchased hosting through Dreamhost's Shared Hosting, you get a free domain name and free domain privacy – well aren't you a lucky duck! If you want to buy a .org, .com, .net, .info or one of the 200 extensions that they support, then you can skip over the Buy Your Domain Name section below and instead check out registering your domain name with Dreamhost directly! However, Dreamhost doesn't support the registration of every single domain name extension. For example, if you want to buy a domain name with a .xyz ending, like blog.xyz, or one with a .world extension, like our.world, you won't be able to do it through Dreamhost. So, you'll need to continue reading through the rest of this Step and buy the domain name through GoDaddy or through another domain registrar.
Buy Web Domain from Godaddy
Our default place to buy domain names, the best domain registrar, is GoDaddy. For your information, there are multiple other solutions out there as well – such as NetworkSolutions, NameCheap, 1and1, IWantMyName, etc. However, we prefer to use GoDaddy (because they do a great job and we frequently get great deals on domain names). So, we'll walk you through the process of buying templatelauncher.com on GoDaddy.
Type your domain into the Enter a Domain Name field, and click Search Domains.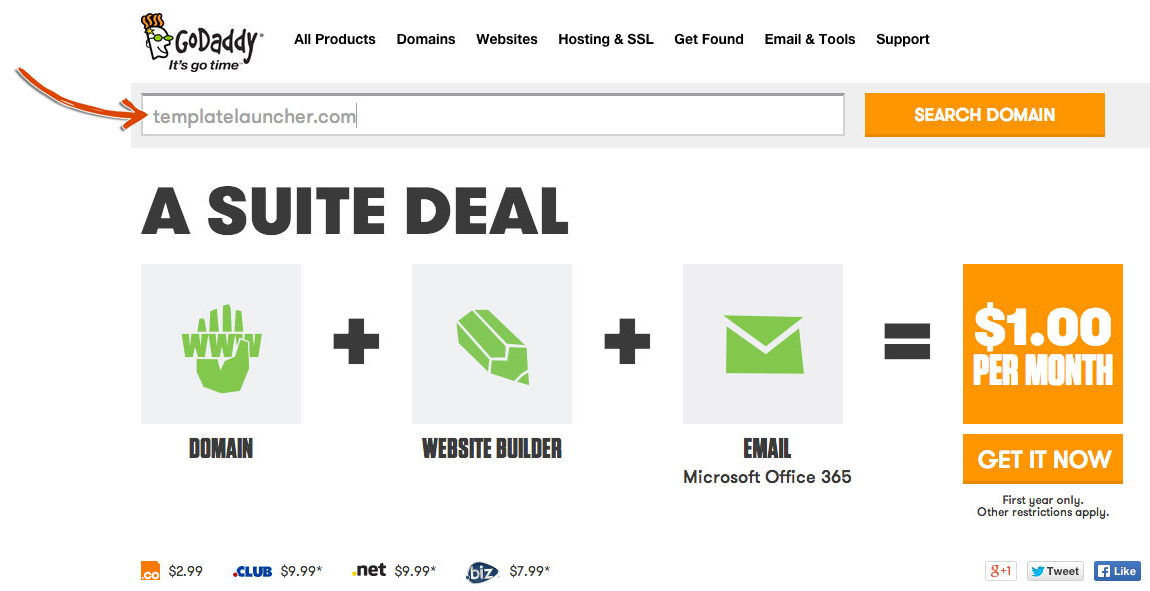 It should show the following screen and hopefully your domain name is still available (pheww – it was in our case). Click on the green select button next to that domain and then click on the continue to cart button.
If your domain name is NOT available, which is often the case for the best domain names, send us an email and we'll give you a guide on What to Do When your Domain Name is Taken.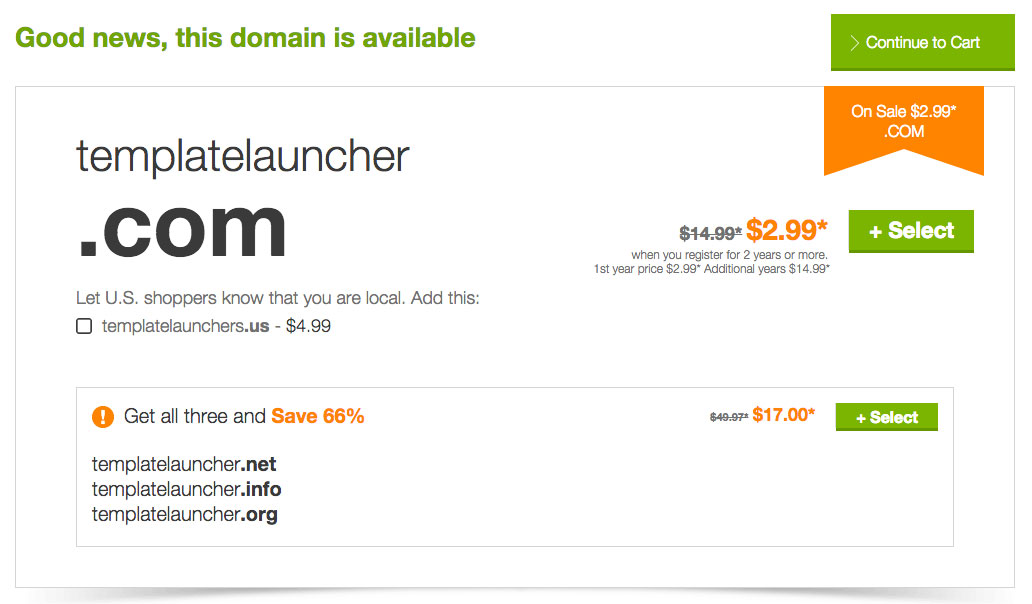 This will throw you to the Select Options for this domain page. If you want to spend the bare minimum, click on the Continue to Cart link at the top or at the bottom and ignore the options.
We typically don't purchase any of these options (because we're thrifty thoroughbreds 😉 ). However, the one we have periodically added is the domain privacy option. This prevents other people from seeing that you own that domain name – specifically it prevents other people from seeing the email address, phone number and home address that are associated with that domain. If you add privacy, then GoDaddy will block access to that information from prying eyes. There have been multiple times when we would rather retain our privacy and it's up to you whether you want to do the same.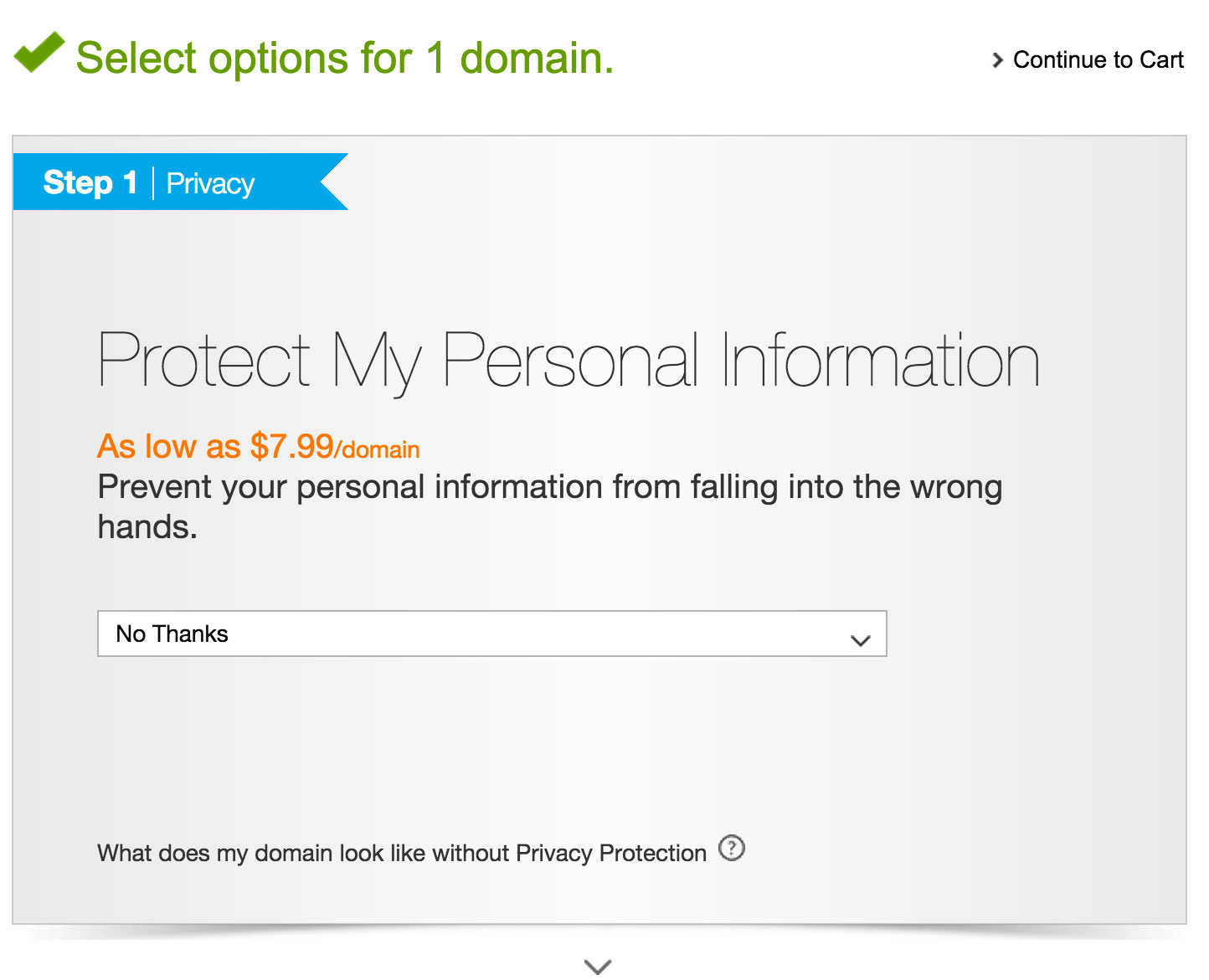 You can see the light at the end of the tunnel! You've reached the cart. On this page, they try to sell you on those options again and have you select the number of years that you want your domain registered with them – their default is 2 years. Again, because we're thrifty thoroughbreds, we always get the 1 year option and set the renewal to Auto-Renew at the end of the year. With that being said, feel free to register your domain for as long of a term as you feel comfortable with.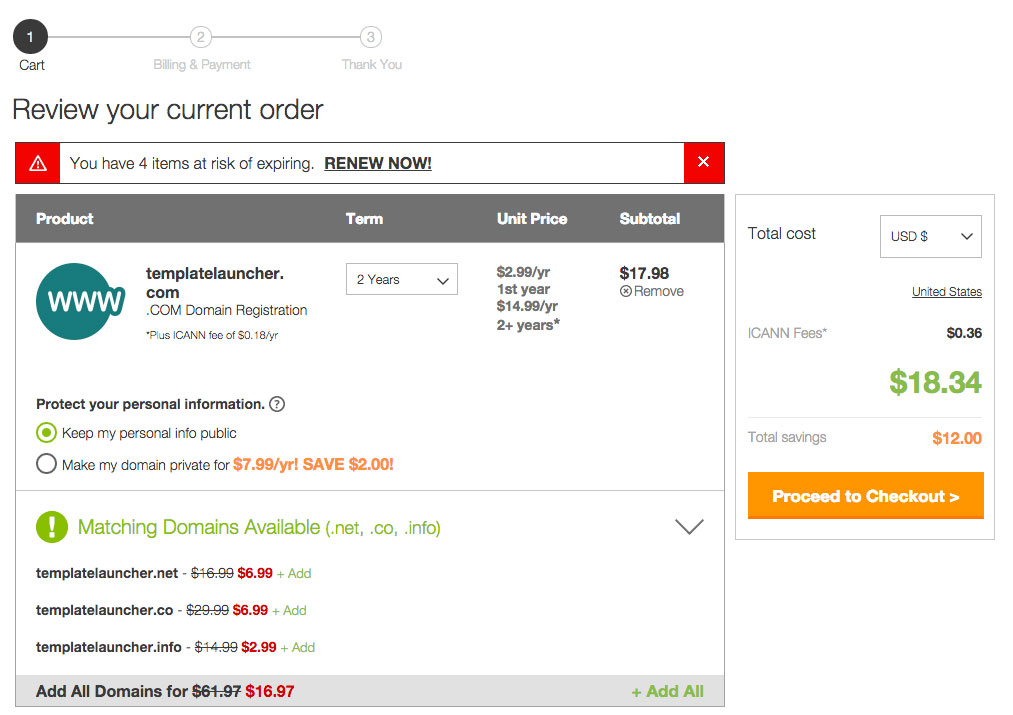 Buy that Sweet Domain
Once you have the promo code and length of registration all sorted out, click on the Proceed to Checkout button.
If you already have an account, then enter in your username and password, otherwise continue and choose the Create a New Account option. If you are creating a new account, the page looks like the below. GoDaddy has you enter your billing and payment information. They also have you fill out the email, username and password that you will use to login to your GoDaddy Account. Make sure to save this account information (ie the email, password and username that you use)!! Again, we recommend using Dashlane to safely store and manage your account information.
You'll have an opportunity to check everything over again after you click on the Continue button and then you officially own your domain (in our case templatelauncher.com)!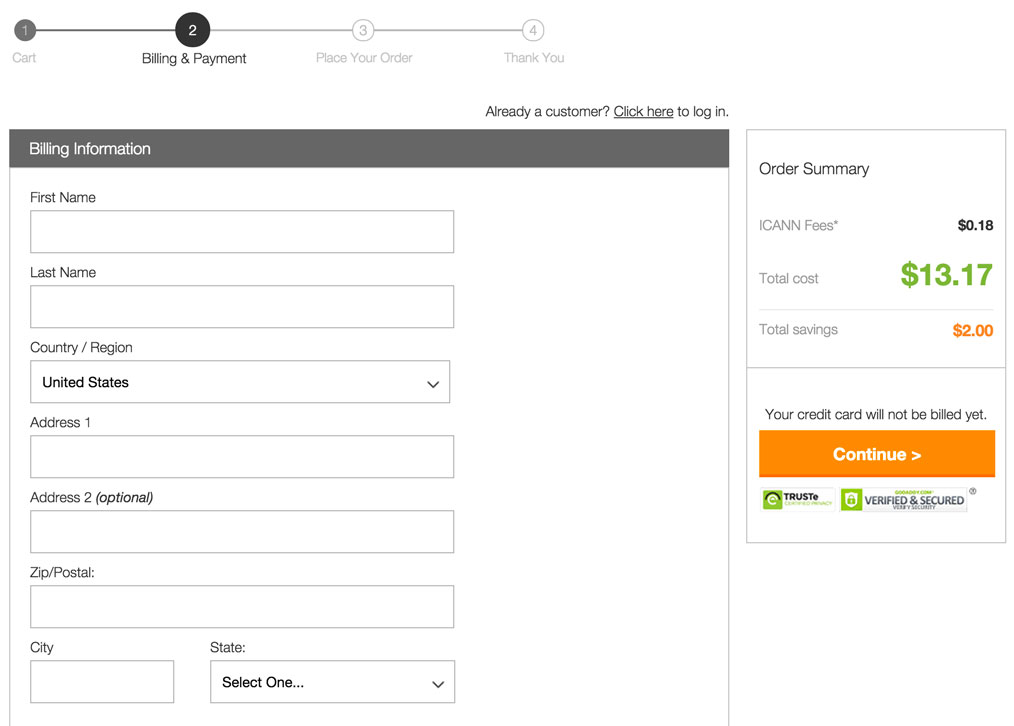 Domain Name Purchased
Now that you are the proud owner of your shiny new domain name (and know how to get a domain name in the future), we need to connect it with your host! Why do we need to do this you ask? How dare you ask us that, you've got a lot of nerve – just kidding 😉 . We need to connect the domain name with your host so that when you type templatelauncher.com into a web browser, like Google Chrome or Firefox, it knows that the templatelauncher.com domain is associated with your host and the website stored on your host's computer (which is WPEngine in our case). Then, the browser serves up the information that it found at WPEngine so that you can check out our website and purchase our one of a kind templates

Mission Control Disclosure:
We want to be totally transparent with you about how we are able to spend our valuable time creating these blazing, amazing, fantastically mind fazing free launch guides. We make money by referring you to services that we use and that we believe in. Our recommended products/services come at NO additional cost to you. In other words, you are buying the products/services at the same cost as any other user but you are supporting us by purchasing products after clicking on our links (because we get a commission). We are always looking to improve on what we suggest in order to give you the best recommendations. You keep the lights on and our bellies full and we are really grateful to you for that

. We have absolute gratitude, that defies any latitude, for the magnitude of your loyal attitude. Thank you!