The most tedious and challenging aspects of the build are over so congratulations, you made it through the gauntlet! Now, you get to work on the fun part and immediately see how cool you can make your website 🙂 .
To start installing your WordPress theme go to:
www.yourdomain.com/wp-login.php
in your web browser. It should pull up the admin login page for your WordPress dashboard: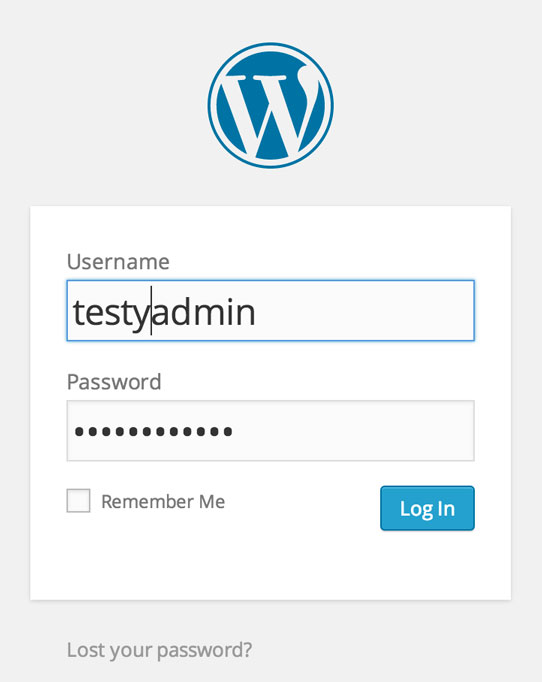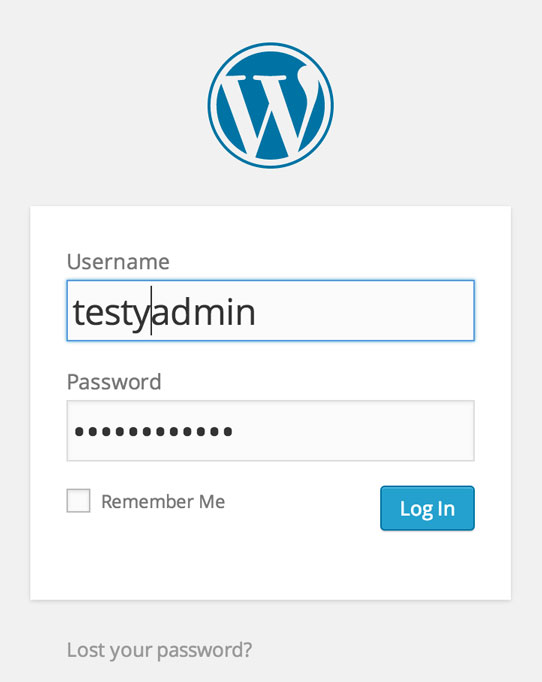 Once you're logged in, you should see your WordPress dashboard. Keep this page open and we'll get right back to this.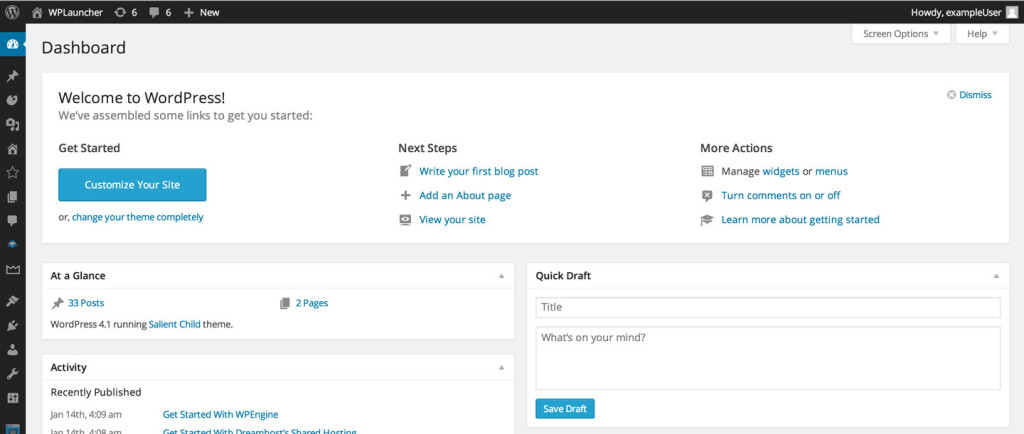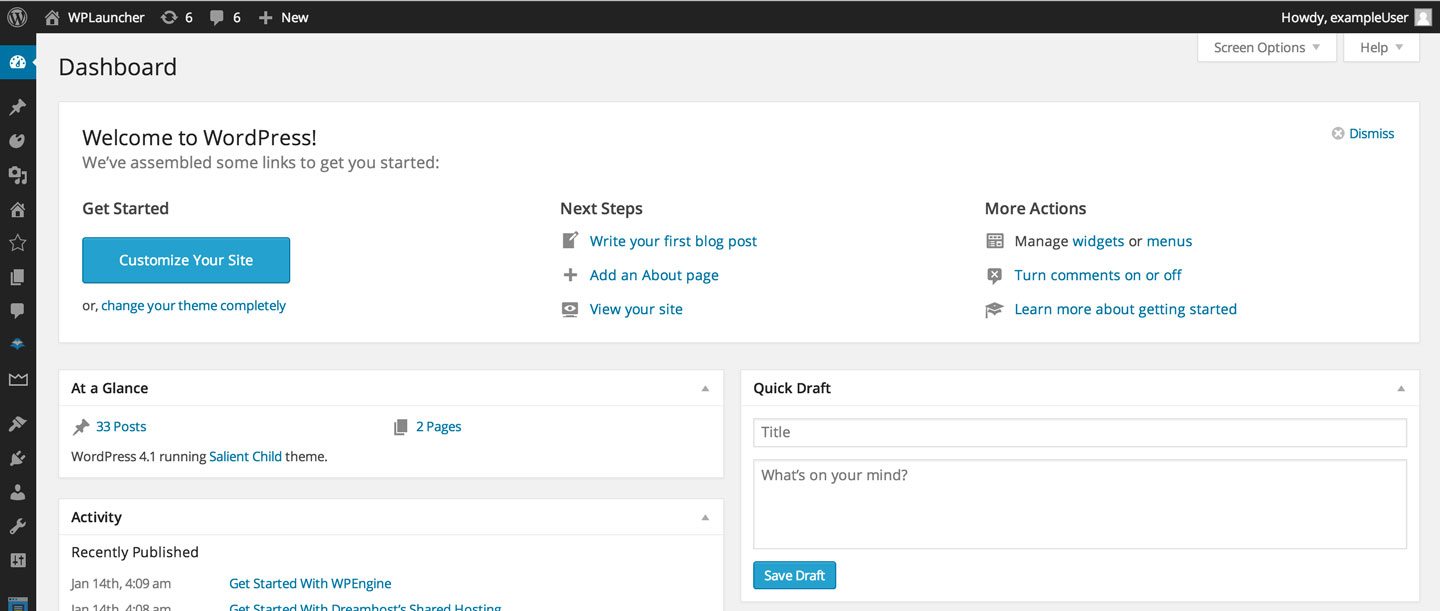 Buy the Salient WordPress Theme
We've spent hours and hours, and hours, searching for different beautiful WordPress themes for clients that are full of features and are easy to maintain. We have built 20+ WordPress sites and have found one theme in particular that we absolutely love. We love it so much that we married it and used it for WPLauncher.com! This is the theme that we will use for your website. You can check out a demo of the website that we built using this theme at blog.wplauncher.com/blog-site.
The Salient theme costs $58 and if you're cheapness is trying to get the better of you consider this – we have built sites for multi-thousands of dollars using this theme (from $3,000 to $18,000+). This is basically the foundation of your house. If you skimp on that foundation you will see no return on your investment. So, before we can install the theme on your site (and make it look awesome), you need to go purchase the theme by clicking on the sweet button below:
Get the Salient Responsive Multipurpose Theme
*Important Note* If you would like to learn how to build a really, incredibly, ridiculously good looking blog, our blog launch guide is based on using this theme. So, if you don't use Salient, it will be incredibly difficult, if not impossible, for you to figure out how to accomplish the full site build (as our instructions are specific to the Salient theme). However, if you would still like to purchase a different theme, check out the large selection of WordPress themes over at Themeforest.
Once you've purchased the theme, you should see the page below: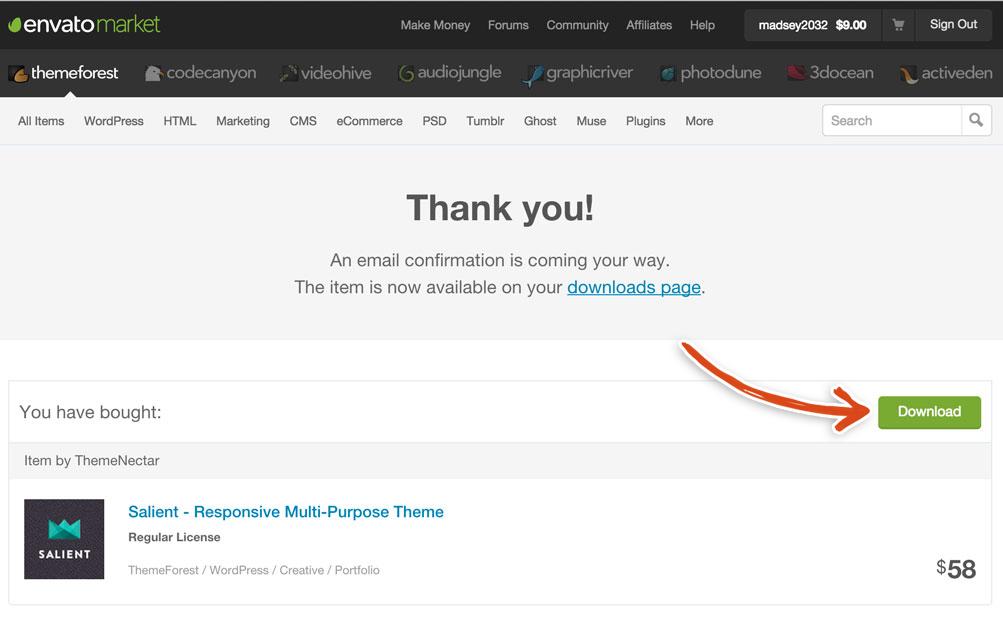 Click on the Download button and then unzip the file using your computer. You should have extracted the following files:

Install the Salient WordPress Theme
Now it's time to install the Salient WordPress theme. Let's head back to your WordPress Admin area and hover over the Appearance menu item in the left sidebar. Click on the Themes link in the menu that pops up.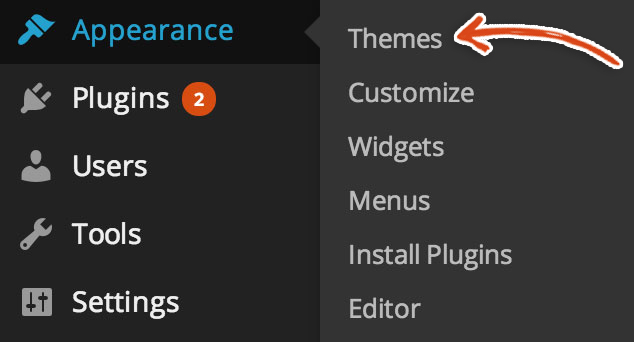 Click on the Add New button.

Click on the Upload Theme button.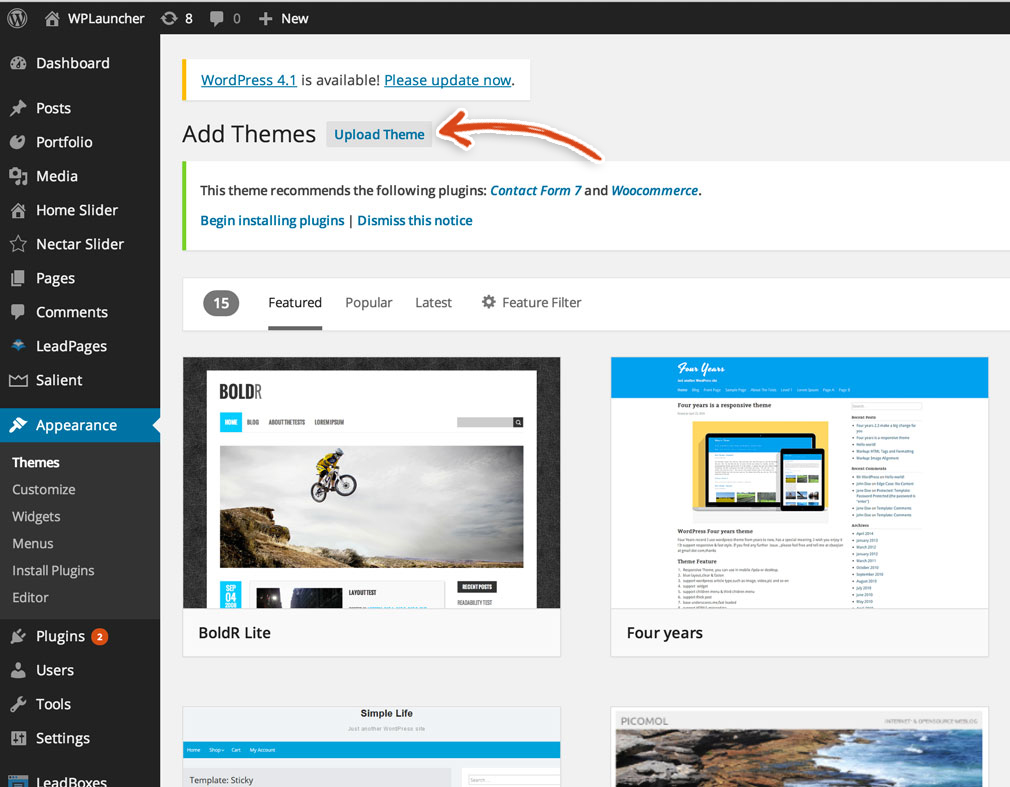 Find the Salient Theme files that you just extracted and select the Salient.zip file. It's this one:

If you have any issues uploading the theme using the Uploader button, you will have to manually add the Salient theme (we show you how to do this in one of our blog posts; Manually add the theme to your WordPress installation). Hopefully, you won't have any issues uploading your theme.
Once the theme has been successfully installed, the following message should display:

Click the Activate link. It should show you the themes page (as visible below) where Salient is now the active theme. How do you like our arrow explosion?!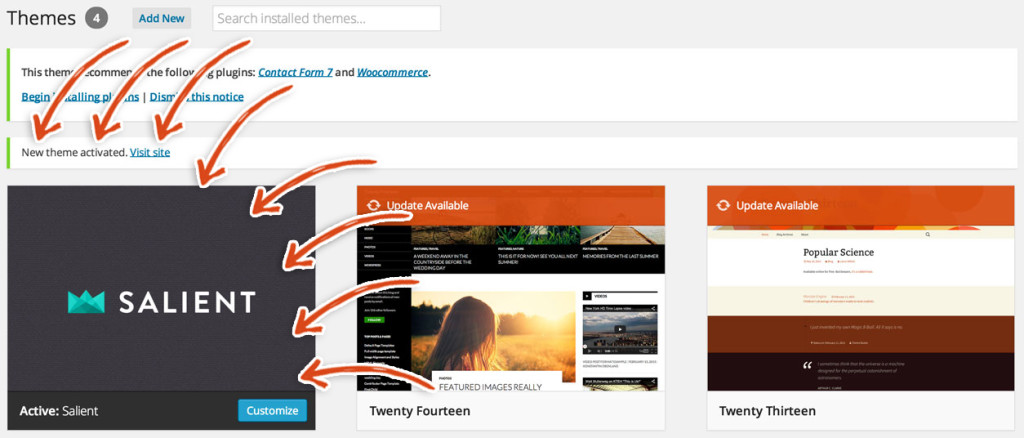 You've COMPLETED Step 6 and should now know how to install a WordPress theme!!! You can check out what your site looks like now by clicking the Visit Site link on the Themes page or by going to yourdomain.com. Continue the launch sequence to the next Step – where you will do something amazing (ie start adding plugins to your site)!
You're a pretty big deal because you've also just completed our WPEngineDreamhost launch guide!!!
If you want some more insider WordPress info from the experts, click on that really cool button below!
If you want to be an even bigger deal, continue your WPLauncher journey by building a beautiful blog; one that will mystify your visitors with its awesomeness.
Mission Control Disclosure:
We want to be totally transparent with you about how we are able to spend our valuable time creating these blazing, amazing, fantastically mind fazing free launch guides. We make money by referring you to services that we use and that we believe in. Our recommended products/services come at NO additional cost to you. In other words, you are buying the products/services at the same cost as any other user but you are supporting us by purchasing products after clicking on our links (because we get a commission). We are always looking to improve on what we suggest in order to give you the best recommendations. You keep the lights on and our bellies full and we are really grateful to you for that

. We have absolute gratitude, that defies any latitude, for the magnitude of your loyal attitude. Thank you!