Howdy Partner!  Now that you bought a domain name and have chosen to host your site on Dreamhost, we'll show you how to point a domain to Dreamhost!
If you haven't bought a domain name check out our post on Finding and Using a Custom Domain Name and if you haven't bought a host for your WordPress site then check out Picking the Best Hosting For WordPress Websites. If you're hosting your site on WPEngine, skip this step by clicking that big yellow Next button.
First, find your host's nameservers.  In Dreamhost's case, it's super easy. The nameservers are listed below:
ns1.dreamhost.com
ns2.dreamhost.com
ns3.dreamhost.com
Here's a screenshot of these nameservers on the Dreamhost dashboard (in case you don't trust us you silly person):

Change the Dreamhost DNS Settings
Login to your domain registrar (if you bought it during this process it is GoDaddy).  Then, click on the accordion called Domains.  This will display the following image.  Next, click on the Manage button next to your domain.

This will show the Domain Details Page. Click on the Manage link within the Nameservers section: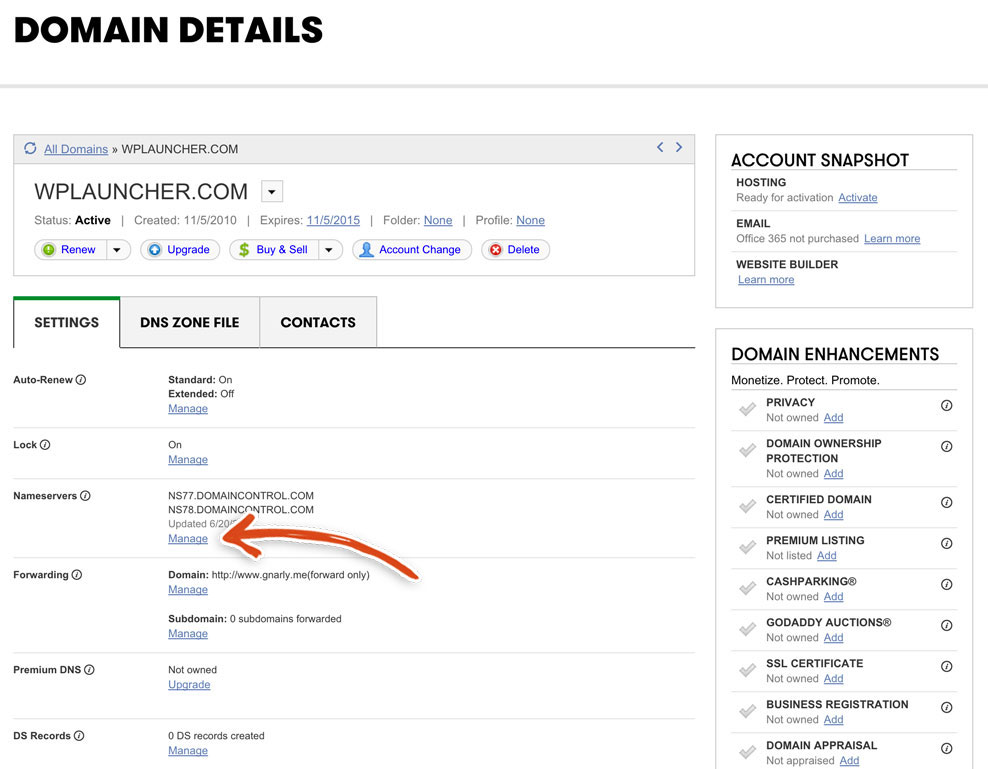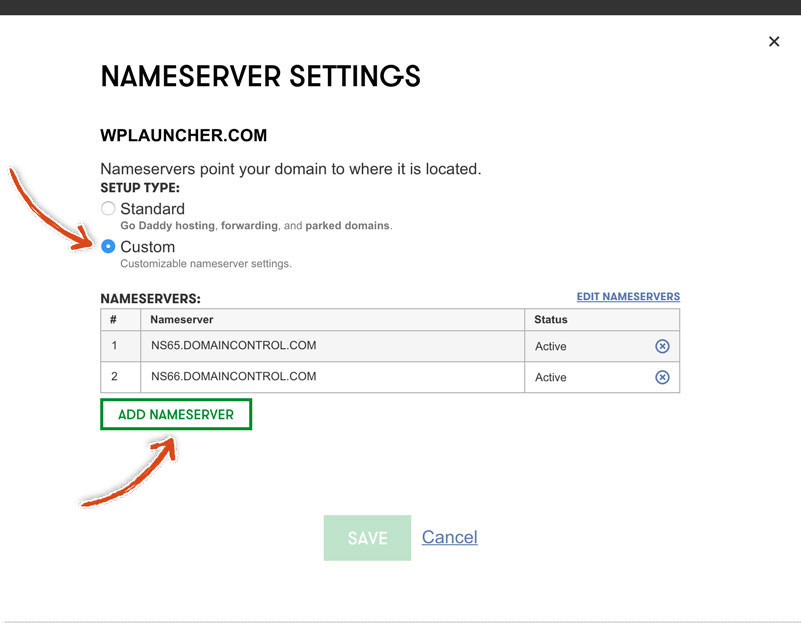 Add those three different nameservers AND remove any existing nameservers. Click the OK button once you're done adding your nameservers.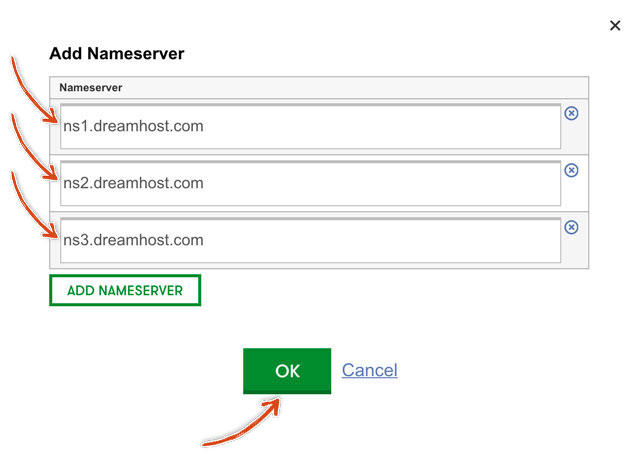 Add Your Domain to Dreamhost
Now let's add your domain to Dreamhost.  Login to your Dreamhost.com account (use the email and password that you used when you signed up for the account). You should see your dashboard (the design has been updated but the same button names should be the same; as seen below):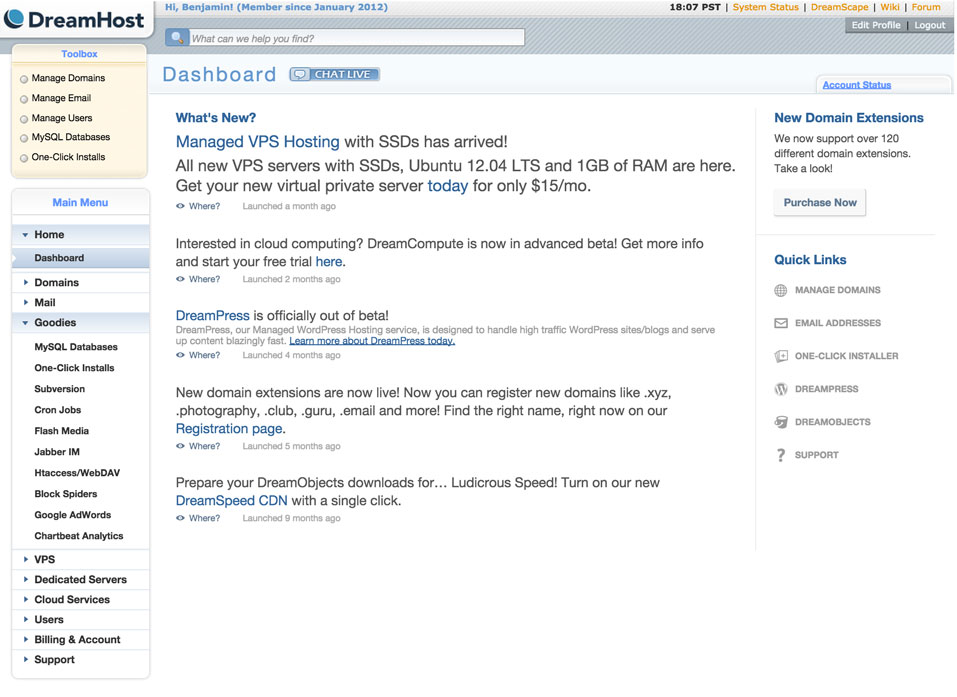 Click on Manage Domains in the top left corner.  This will pull up the Manage Domains page – listing all of the domain names associated with your Dreamhost account.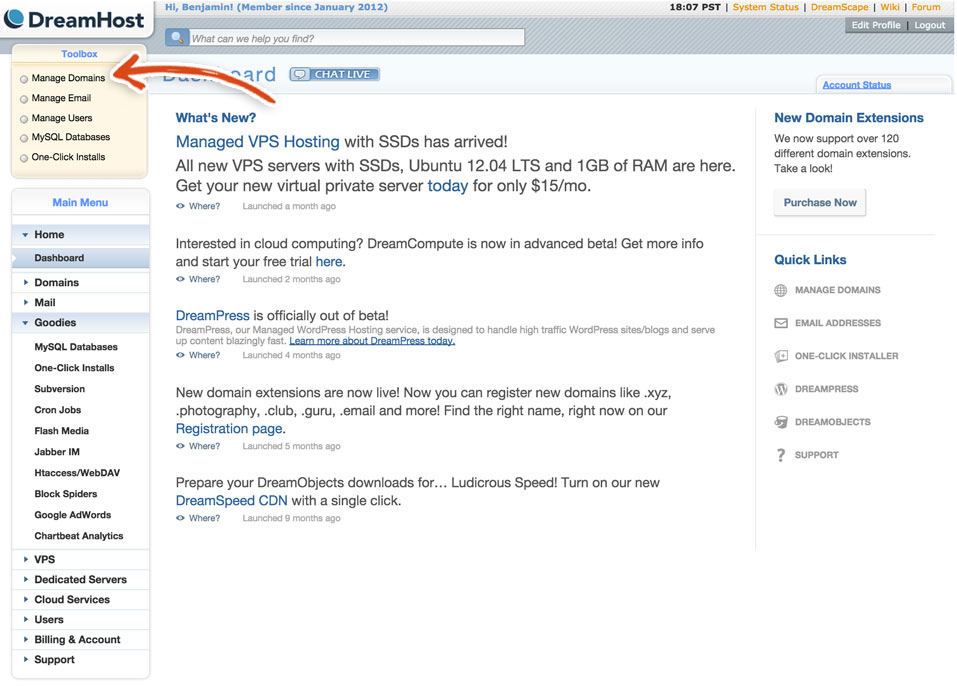 Next, click on the Add Hosting to a Domain / Subdomain button (underneath the Manage Domains header).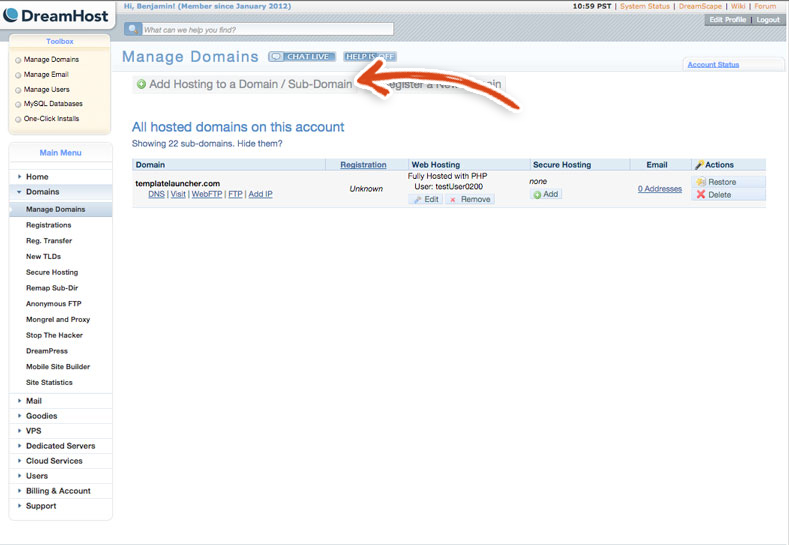 You should see the following page: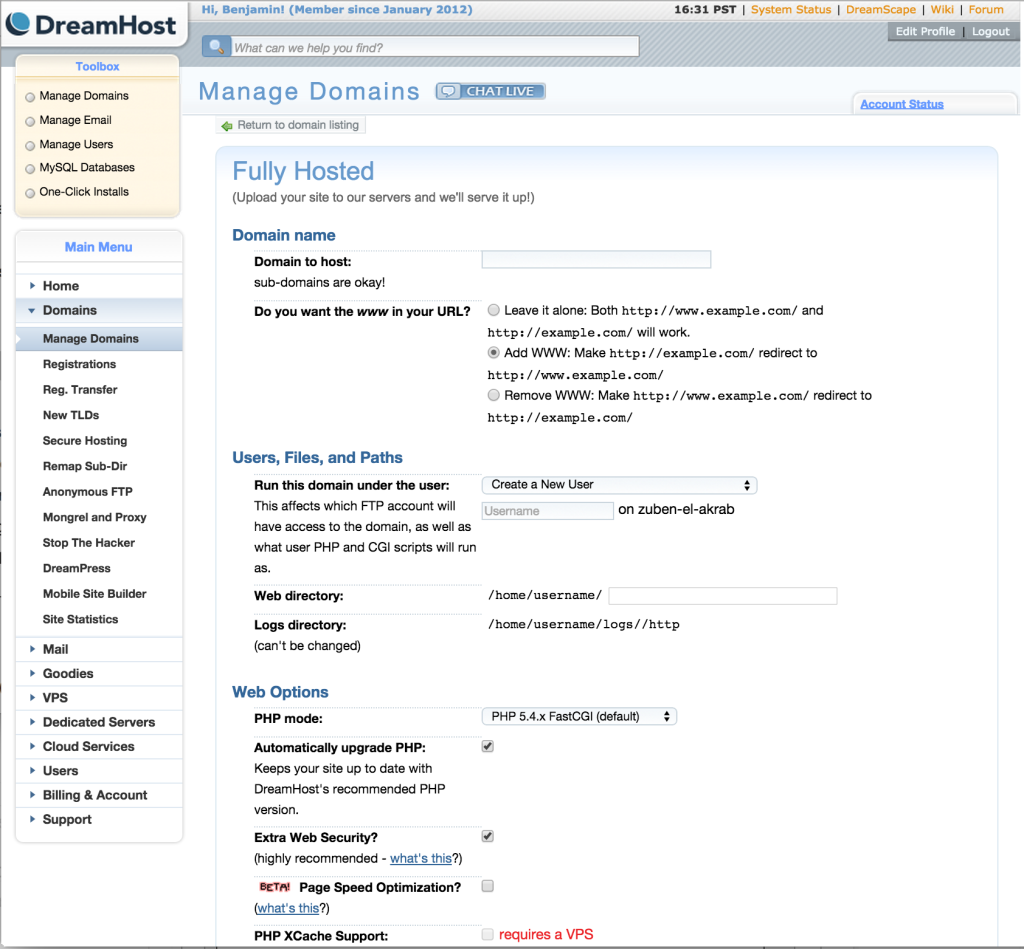 Now, you need to fill out the form gentleman or gentlelady.  We added a bunch o' arrows so you can see what needs to be edited: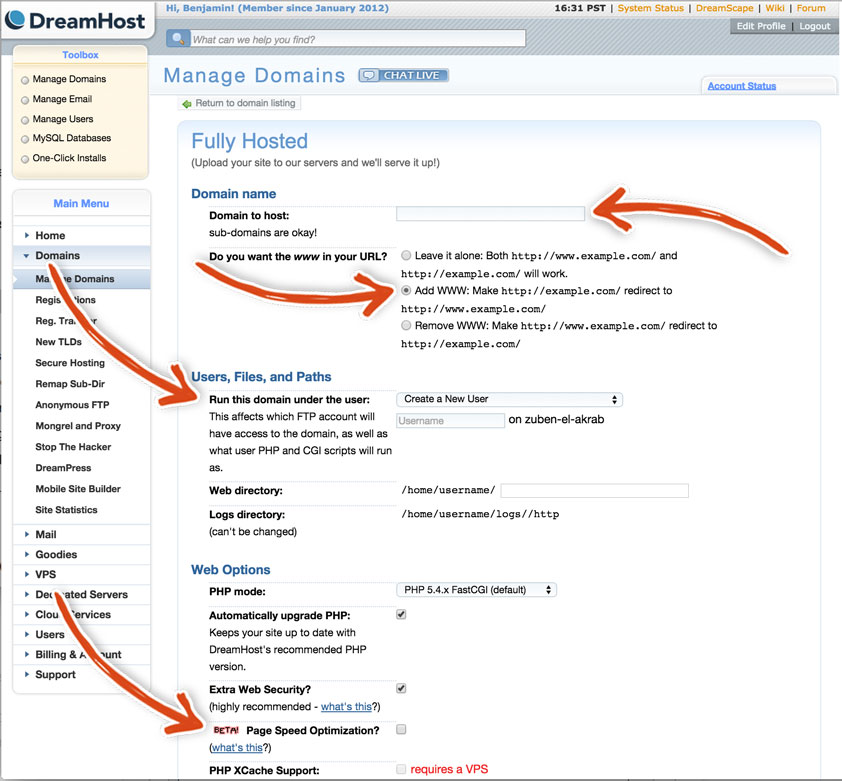 Domain to Host
– Enter in the domain that you want to host in the input.
Do you want www in your url? – Add the www because there are performance benefits if you get a lot of traffic.
Run this domain under the user – Typically, we create a custom user for each new domain that we add to Dreamhost as it protects us if one of our users are compromised for some reason.  If we use one user per domain, then it would only impact 1 domain if that user was compromised.  However, if we used the same user on multiple domains and that user is compromised, then all domains using that user could potentially have been exposed to malicious behavior.
Web Directory: Leave that alone.
Web Options : For the web options, we leave all of them the same except for the page speed optimization.
Page Speed Optimization?: Check this box
Enter in the ReCaptcha and then click on the Fully Host this Domain button.
Success!
You should be shown the message below saying that you have successfully added a new domain along with the username and password associated with that domain (in order for you to have FTP access to the site).

*IMPORTANT NOTE* Make sure to record the username and password that Dreamhost shows you in this green alert box and label it as Domain Name FTP Credentials. Not to beat a dead horse and just as a friendly reminder, this is another great opportunity to use Dashlane for storing your username and passwords.
You may have to wait a bit for these changes to propagate (spread across the internet), so don't be worried if you don't see your site at the new domain immediately. Worst case scenario, it may take up to 24 hours (but that's typically not the case from our experience).  If it isn't visible after 24 hours, we suggest talking to your domain registrar (in our case GoDaddy) and making sure that everything has been set up correctly on their end.
NICELY DONE – you just learned how to point your domain to dreamhost!!
Mission Control Disclosure:
We want to be totally transparent with you about how we are able to spend our valuable time creating these blazing, amazing, fantastically mind fazing free launch guides. We make money by referring you to services that we use and that we believe in.  Our recommended products/services come at NO additional cost to you.  In other words, you are buying the products/services at the same cost as any other user but you are supporting us by purchasing products after clicking on our links (because we get a commission). We are always looking to improve on what we suggest in order to give you the best recommendations.  You keep the lights on and our bellies full and we are really grateful to you for that

.  We have absolute gratitude, that defies any latitude, for the magnitude of your loyal attitude. Thank you!