You've decided that you want an easy and cheap way to launch an infinite number of websites. In other words, you've decided to use Dreamhost as your shared hosting provider.
If you've already signed up for WPEngine then skip to the next step or follow the link to How to Get a Domain Name.
Now, let's get you signed up for Dreamhost!! Click that bright yellow button below.
This should take you to the Dreamhost home page.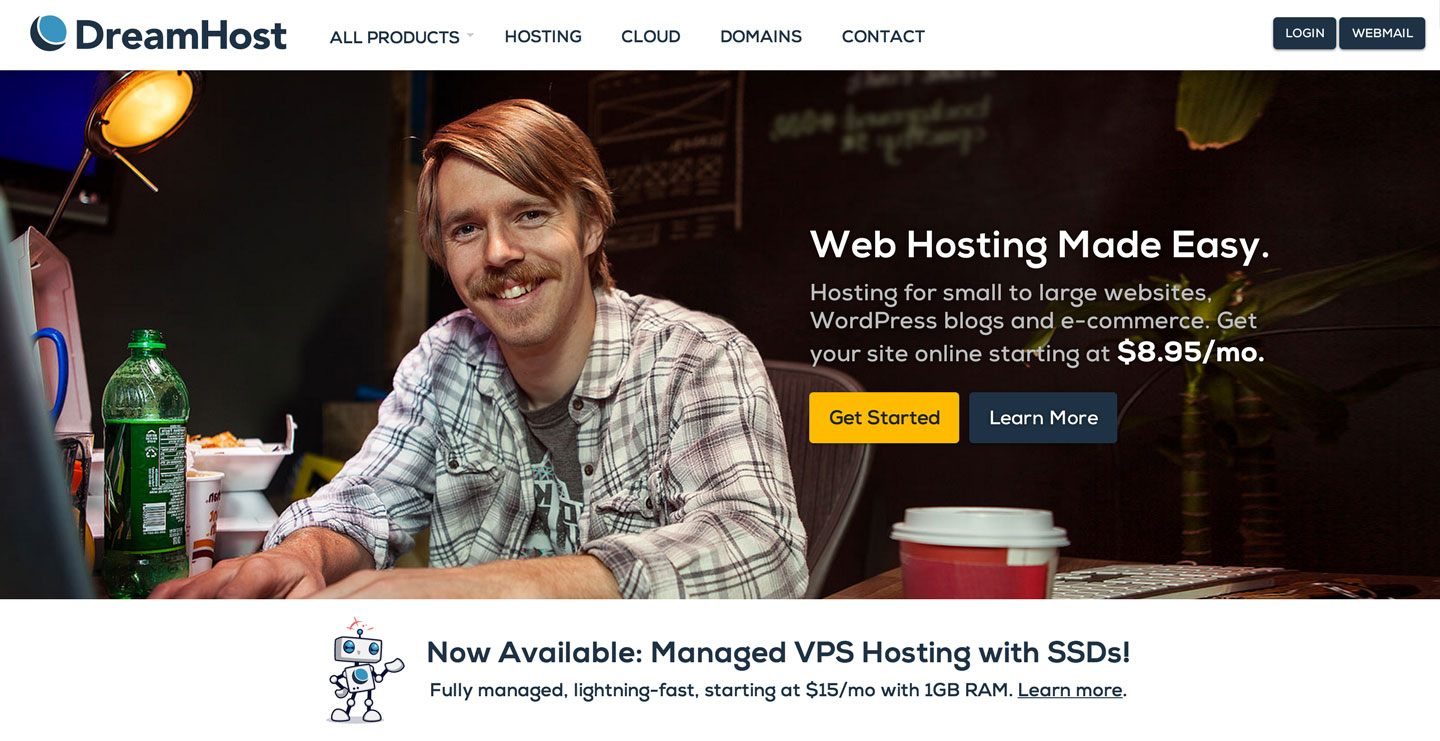 Click All Products
Click on the All Products link in the navigation bar. A dropdown menu should now display – like the image below:

Select Shared Hosting
Click on the Shared Hosting option in the dropdown menu. This should open up the following page that describes the Shared Hosting Product.

Sign Up Today
Click on the Sign Up Today button. This should bring up the sign up form page.
Fill in your email address and password and click on the Continue button. Make sure to save the email and password that you use (because you will need this to login to your Dreamhost dashboard).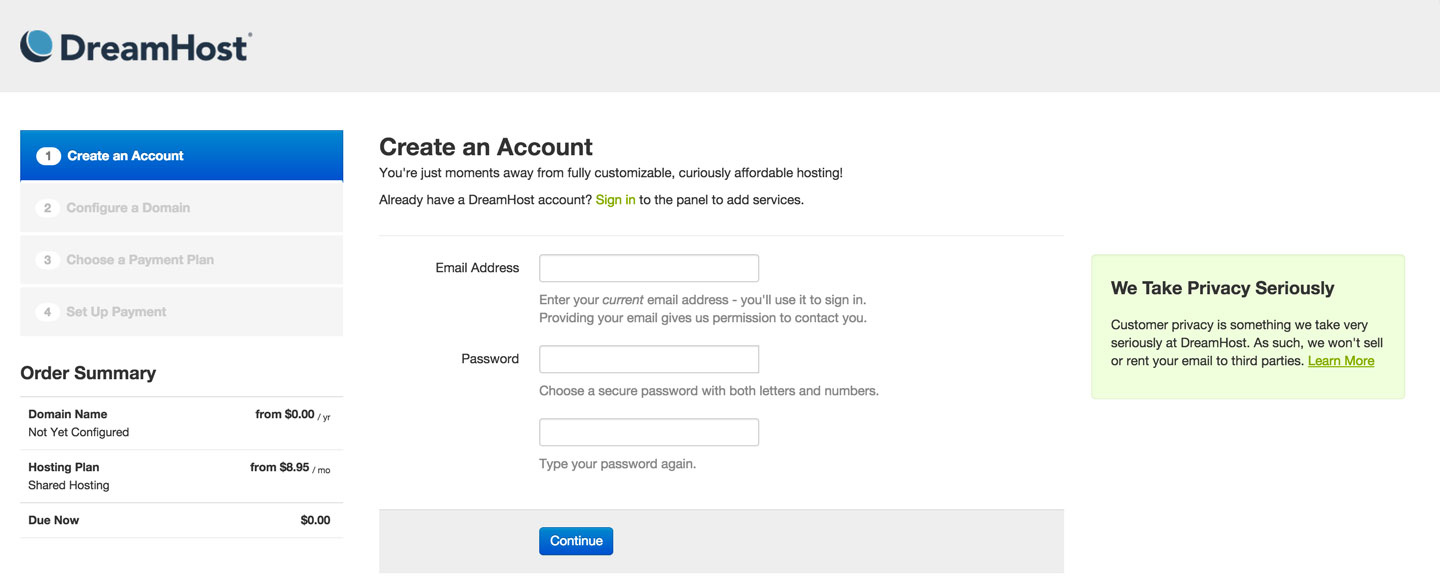 Configure a Domain
This will move you onto the Configure a Domain section. Select the I'll set this up later option for the Configure a Domain section.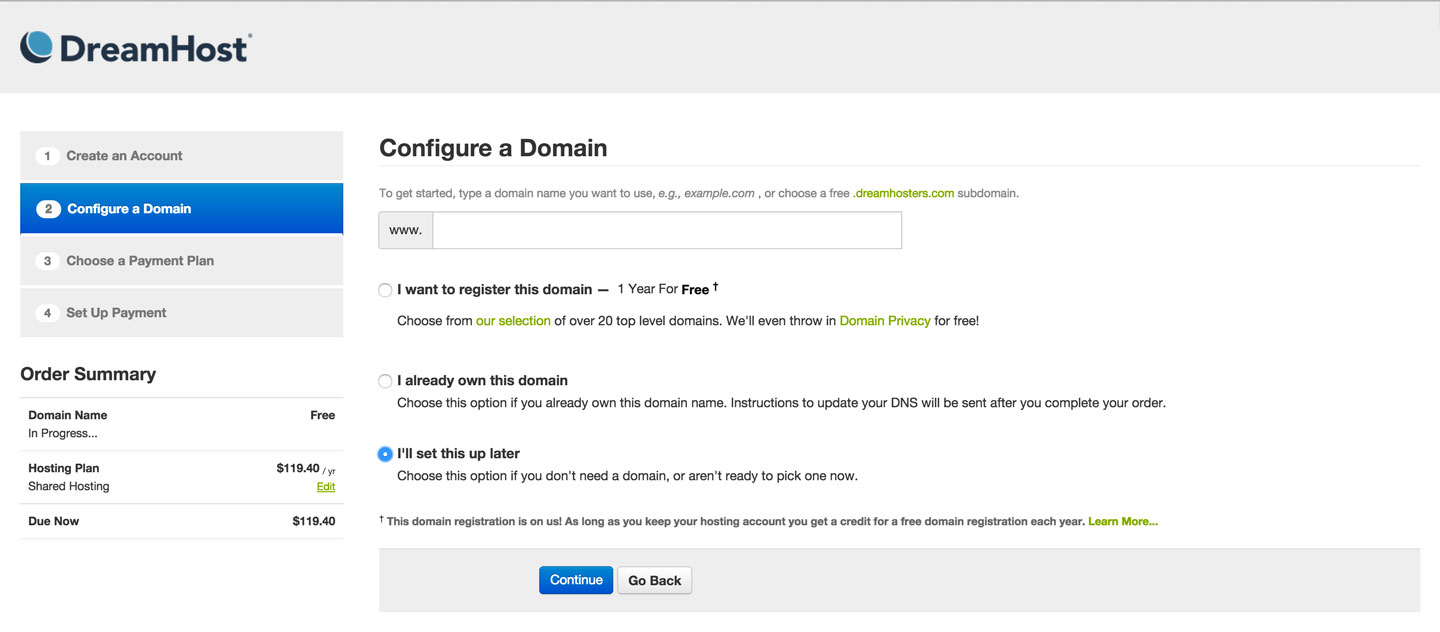 Choose a Payment Plan
After clicking Continue, you will progress to the third section called Choose a Payment Plan. Choose whichever Payment Plan fits your budget the best. We're going to opt to save an extra $24 and pay for two years ( because we can never pass up a discount 😉 ). If money is a little tight and this one time payment is too big for you at the moment, click on the 1 Year Prepaid plan. If this is still too rich for your blood, click on the Month to Month option.

Setup Payment
Click on the Continue button and proceed to the Set Up Payment step. You need to enter in your name, payment information, address, any promo codes that you could find, and then agree to the terms and conditions. Click on the Complete Signup button and you're all done!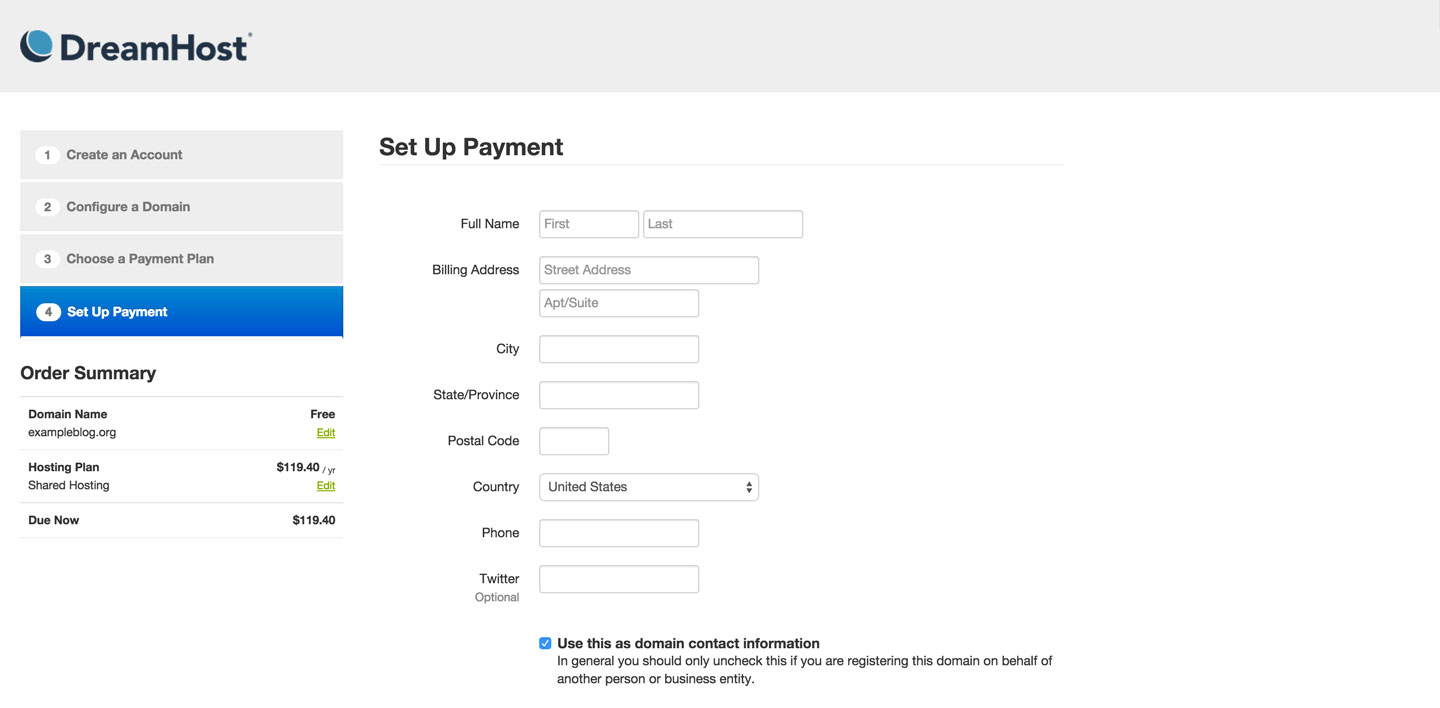 Welcome to your new dreamy-host 😉 . From here, you could log into your dreamy new host but we're going to get your domain name squared away first. We'll revisit Dreamhost in a couple steps, so keep your username and password handy. Until then, you can move onto our next step, which involves finding and using a custom domain name for your site!
Mission Control Disclosure:
We want to be totally transparent with you about how we are able to spend our valuable time creating these blazing, amazing, fantastically mind fazing free launch guides. We make money by referring you to services that we use and that we believe in. Our recommended products/services come at NO additional cost to you. In other words, you are buying the products/services at the same cost as any other user but you are supporting us by purchasing products after clicking on our links (because we get a commission). We are always looking to improve on what we suggest in order to give you the best recommendations. You keep the lights on and our bellies full and we are really grateful to you for that. 🙂 We have absolute gratitude, that defies any latitude, for the magnitude of your loyal attitude. Thank you!