There are a few highly respected WordPress hosting companies. We have used WPEngine for a couple high traffic client sites in the past.  One of which had 6 Million+ page views per month.  We used to recommend WPEngine to all of our clients until we built our own WordPress hosting platform called WPLauncher. WPLauncher that provides the same features at a fraction of the price. People tend to think of WPEngine as being for those who take their hosting solution very seriously and while we still think that WPEngine provides a great service, we think it's much too expensive though, and we now guide our clients to WPLauncher, our hosting platform.
But, if you're ok with spending more money for hosting your site, WPEngine's features make them worth-while even if you're a newbie and don't expect much from your website in terms of traffic.  WPEngine provides help from WordPress experts. They provide stellar customer support and take the pressure off of you regarding backups and restores. WPEngine also provides easy and fun tutorials on how to accomplish various technical tasks to boot.
We asked WPEngine a couple of questions to give you some additional info in making your decision so you can see what you're getting from the horse's mouth.
What sets you apart as a managed hosting solution?
"Typical shared hosting companies care about one thing, and that's keeping their cost as low as possible. They may staff low-paid entry-level employees who don't know the first thing about WordPress, and they use less-expensive servers. At WP Engine, we don't do that. We source high-performance hardware for both our virtualized and bare metal solutions, and then we place our software stack (including Evercache) on top of the hardware to give our customers the highest-performance WordPress caching solution available on the market today. We back our technology with top WordPress experts to help your business grow and thrive. If you run a WordPress site and need the highest level of security, stability, and support, WP Engine is an excellent choice."
What do you offer that other Managed WordPress Hosting solutions like Media Temple or Dreampress don't?
"Our platform is created exclusively for WordPress and has over 100 application layers built in for security, scalability and speed. Because of the maturity of the platform our customers see an average of 2-4x speed increase."
When should users use the personal, the professional, the business and the enterprise plans?
"Our plans are based on unique visitors per month & number of installs. Our Premium and Enterprise plans can scale up to 100 million plus."
What are the main differences between the plans?
As you can see from the chart and from their rep's response above, WPEngine differentiates their plans primarily based on the number of visitors per month and the number of installs that you can have at each plan level. They also distinguish their plans with some additional features like a Content Delivery Network and the ability to install an SSL certificate for Professional Plans and above only.
Now it's time for us to provide a complete breakdown of the different features listed in the chart above and to share our perspective and thoughts after building multiple sites on WPEngine (and 50+ sites on Dreamhost and other hosting solutions).  Additionally, we'll give you access to some of our own test results to give you a better understanding of site load times and bandwidth from sites hosted on WPEngine.
Number of WordPress Installs
The number of WordPress Installs depends on the plan – the Personal Plan allows for 1 install, the Professional Plan allows 10 installs, the Business Plan allows 25 installs and the Enterprise Plan allows 25+ installs.  FYI – a WordPress install is equivalent to a WordPress website.  So, you can have 10 WordPress sites if you get the Professional Plan.  It's important to keep in mind that if you start on the Personal Plan, you can update to any of the other plans at any time (if for whatever reason you get the sudden urge to add a bunch of WordPress sites).
Visitors Per Month
The number of visitors per month depends on the plan. The Personal Plan allows for 25,000 visitors/month,  100,000 visitors/month for the Professional Plan, the Business Plan allows for 400,000 visitors/month and the Enterprise Plan includes 1 Million visitors/month. FYI – they "take the number of unique IP addresses seen in a 24-hour period as the number of "visits" to the site during that period. The number of "visits" in a given month is the sum of those daily visits during that month."  WPEngine's definition of visitors may not be the same as services like Google Analytics – so the number of visitors you see on other services may be different.  It's important to note that if you go over the visitors/month included in your plan you will need to pay a traffic overage charge – explained below:
Traffic Overage Charge
You will need to pay $1/1000 visits per month over your plan's visitor per month limit.  So, if you decide to get the Personal Plan (25,000 visitors/month) but your site sees 100,000 visitors that month, you're going to pay an extra $75 for the extra 75,000 visitors. This is very reasonable in our opinion.  And, if you expect that traffic to continue you can just upgrade to a Professional Plan and save $4/month and get access to all of the extra features that you get in the Professional Plan.
Cost
WPEngine's services are more expensive than shared hosting solutions and even some managed WordPress solutions. However, having experienced the performance benefits of WPEngine first hand versus other hosting solutions, we have great trust in the product and in its ability to deliver at incredible traffic levels (our personal experience was at 6 million plus page views per month – although the rep said that they can handle 100 Million+).  The Personal plan starts at $29/month, the Professional plan is $99/month, the Business plan is $249/month and the Enterprise plan is determined by WPEngine based on your site and monthly traffic.  It's a lot of money if you're not serious about your site, but if you are and if this is your business, it is a small price to pay for all of the features and peace of mind that you get.  FYI – you can get two months free if you pay for the entire year for any of the plans (of course we took advantage of this because we are like old ladies clipping coupons – we can't pass up a deal!).
Load Time
This is an area where WPEngine really sets themselves apart.  We don't have to explain the importance of load time – but we will anyways.  Not only does it provide your users with a better experience, quick page loads are also an important part of search engine optimization (SEO).  It is known that site load speed is a factor in determining a page's ranking – ie faster sites rank higher in Google.  Here at WPLauncher, we try to do everything we can to provide a great experience to our users and to take advantage of as many SEO techniques as possible (in order to hopefully garner some additional organic search traffic).  According to a Fast Page Load article on WPEngine , "Google loses 20% of their traffic for each additional 100 milliseconds it takes a page to load." For the above reasons (and many others), we think of site load time as a sales tactic and we want to put our best foot forward in this arena because (as that quote states) every millisecond counts in getting as much traffic to your product as possible.
The results and charts below show site load times for the WPEngine Professional and Personal Plans when there are no concurrent users and when there are up to 50 concurrent users.
Site Load Times Without Concurrent Users
We tested site load times without concurrent users using Pingdom's tools.  We tested the load times for two sites hosted on WPEngine from three different cities, averaged out each individual city and then took an average of all of the city average load times to get the total average load time for that plan.
Results From Pingdom for a Site Hosted on WPEngine's Personal Plan
Amsterdam – Average – 4.37 ALL POINTS (4.76,4.76,3.99,3.97)
New York – Average – 2.94 ALL POINTS(3.27,2.9,3.03,2.84,2.86,2.75)
Dallas – Average 3.40 ALL POINTS (3.29,2.82,3.42,4.06)
Total Average – 3.48s
Results From Pingdom for a Site Hosted on WPEngine's Professional Plan
Amsterdam – Average – 3.71s All Points (3.39,3.52,4.68,3.46,3.49)
New York – Average – 1.84s All Points (2.09,1.57,1.87,1.7,1.97)
Dallas – Average – 2.47s All Points (2.76,2.23,2.49,2.39)
Total Average – 2.69s
As you can see from the results above, the Personal Plan's WordPress install averages a 3.48 second site load time while the Professional Plan's WordPress install averages a 2.69s site load time. The  Professional Plan's website is on average .79 seconds than the Personal Plan's website. If you compare the load times from each individual city you'll see the same trend as well.  For example, on average, the site on the Personal Plan takes 2.94 seconds to load for a New York user whereas the WordPress site on the Professional Plan takes an average of 1.84 seconds to load in New York.  Which represents a .9s speed boost if you're looking at the Professional Plan's WordPress site. FYI – .9 seconds is 900 milliseconds – so if we're using the Google information above, we just lost a lot of traffic waiting that additional 900 milliseconds.
Site Load Times With Concurrent Users
We tested site load times with up to 50 concurrent users using Load Impact's tools.  We ran a load time test for two sites hosted on WPEngine – one on the Personal Plan and the other on the Professional Plan.
WPEngine Personal Plan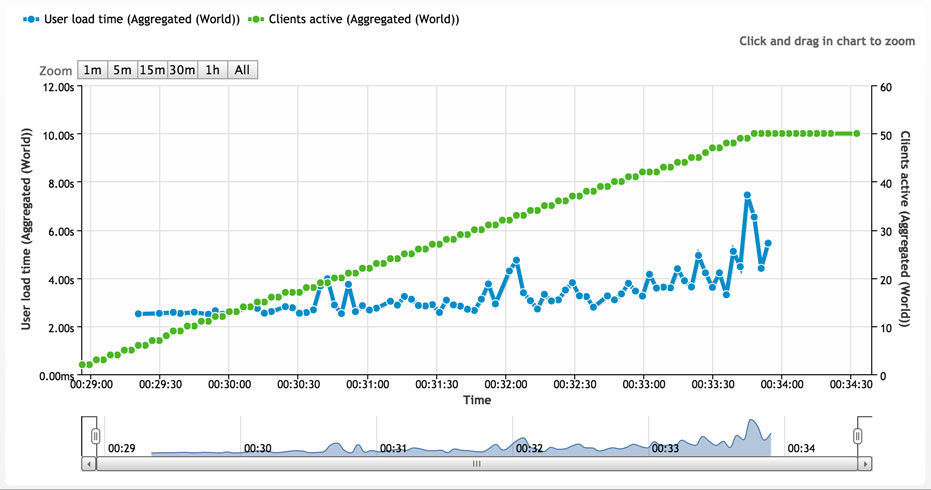 WPEngine Professional Plan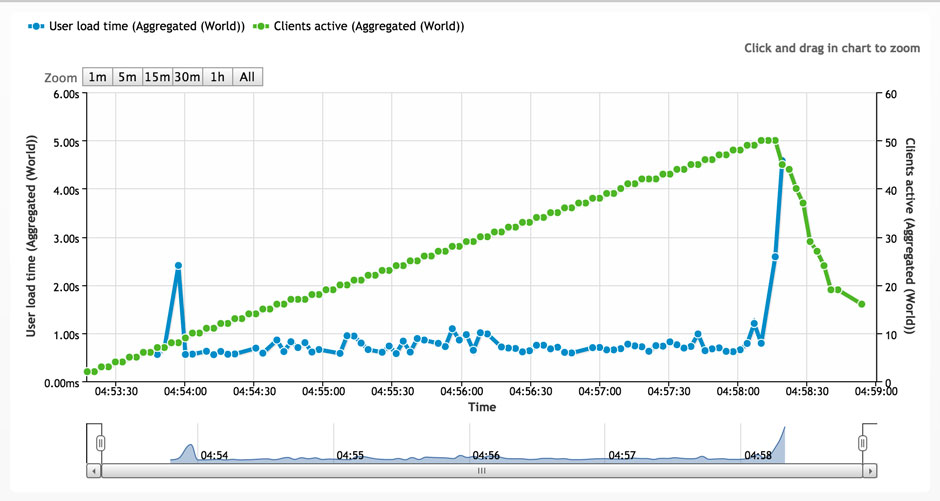 As you can see from the charts above, while the number of concurrent users goes up to 50, the Personal Plan averages between 3 to 4ish seconds in user load time whereas the Professional Plan averages around less than 1 to 1 second.  The max load time on the graph for the Personal Plan appears to be about 7.5 seconds whereas the max load time for the Professional Plan looks like 4.5 seconds.  So, you're getting substantially faster load times in the Professional Plan than in the Personal Plan – 3 seconds faster (if you compare the max load times) or 2 to 3 seconds faster if you compare the averages.   That's a lot of milliseconds and that will make a huge difference with customer satisfaction and SEO.
Why the difference in load time between the two WPEngine plans?
This is likely due to the built in CDN for the Professional Plan.  As described in subsequent sections, the Professional Plan's content delivery network serves up site assets from servers that are closest to you (reducing time to show you those assets and decreasing site load time).
Can I expect the same load times for my site?
The load time depends on the different assets that are present on your site (ie large file sizes take longer to load and a video streaming site would likely take longer to load) but these two graphs are representative of WordPress sites that are pretty average.  So, as long as you use a well written theme, optimize the images used on your site and use an average mix of images, text and video content on your site – you should experience a similar load time.
How is WPEngine so much faster than Dreamhost's Shared Hosting and other solutions?
If you looked at the Dreamhost Shared Hosting load times (8.15s for non-concurrent users and a max load time of 30s for 50 concurrent users), you'll see the vast difference in site load times that you're getting for the extra money that you're paying for WPEngine.
WPEngine's managed caching service and enterprise level architecture (including high end server hardware and International Data Centers) present on all WPEngine plans contribute to the speed of WPEngine. The Content Delivery Network that is included for the Professional Plan and above also gives your site even more of a speed boost.
Disk Storage
You probably know what disk storage is but in case you don't it's the amount of stuff that you are allowed to store on WPEngine's servers.  You get unlimited disk storage with any of WPEngine's hosting plans.  There is no additional cost for taking up a ton of storage space because they are using their LargeFS Storage functionality. We love this feature because we want to make sure there are no issues the bigger we get.  We will likely have backups of our videos on their disk but we primarily store our video files on YouTube or Vimeo (because that's who streams our videos and they have mastered the streaming process and would crush any streaming solution that we could build or include internally).
Bandwidth
What is bandwidth WPLauncher dudes?! A good way to describe bandwidth is a tunnel with cars traveling through it. The size of the tunnel is considered to be the bandwidth and it restricts the number of cars (or data) that can travel through it.  While putting together this comprehensive WPEngine review, we discovered that WPEngine doesn't spell out the bandwidth provided for their different plans.  So, we ran a test to give you an idea of the max bandwidth for their Personal and Professional Plans at 50 concurrent users.
Personal Plan Bandwidth Test
The chart below shows the bandwidth available using a WPEngine Personal Plan while the number of concurrent users is ratcheted up to 50.  As you can see below, the max bandwidth achieved at 50 concurrent users is 60 Mbit/s.  Compare this to our tests of Dreamhost's Shared Hosting product where their max bandwidth for 50 simultaneous users is just over 25 Mbit/s. So, for an extra $20/month you're going to get double the bandwidth at 50 concurrent users.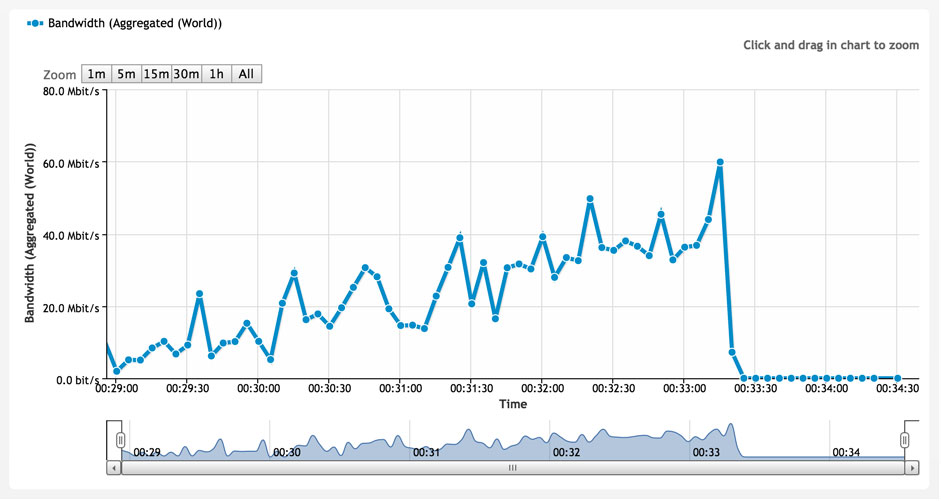 Professional Plan Bandwidth Test
The chart below shows the bandwidth available using a WPEngine Professional Plan while the number of concurrent users is ratcheted up to 50.  As you can see below, the max bandwidth achieved at 50 concurrent users is just over 125 Mbit/s.  Compare this to Dreamhost's Shared Hosting product where their max bandwidth is just over 25 Mbit/s and to WPEngine's Personal Plan with a max bandwidth of 60 Mbit/s with 50 simultaneous users. For $70/month more money than the Personal Plan, you're going to get double the bandwidth at 50 concurrent users as well as the capability of having 10 different WordPress sites on your account and free access to a content delivery network.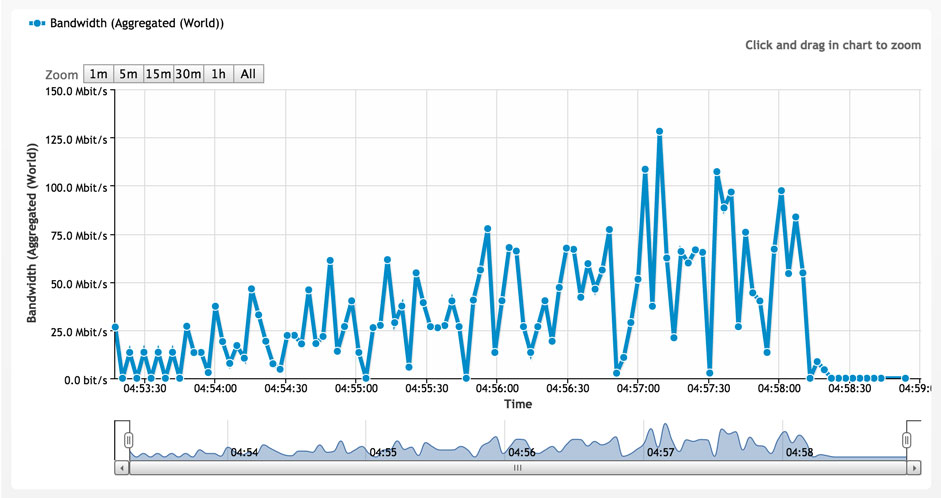 Overall, these charts show that data can travel from WPEngine's servers to your computer more quickly than on other hosts (because the bandwidth is greater (or the tunnel is wider:))). It appears that the higher the plan level is, the more bandwidth that your site is assigned.
Data Transfer
Data transfer is the amount of data that is transferred from your site to the user.  WPEngine offers an unlimited amount of data transfer until you get 25,000 users for the Personal Plan, 100,000 users for the Professional Plan and 400,000 users for the Business Plan (if you go over these numbers there's a traffic overage charge but you still have an unlimited amount of data transfer).  If you're still unsure of what data transfer is, we're going to use the comparison above regarding a tunnel with cars traveling through it to describe it.   The number of cars that can travel through the tunnel represent the amount of data that can be transferred. If your tunnel is wider (more bandwidth), it doesn't take as long for cars to pass through the tunnel (data transfer to occur).  This is why WPEngine's load times are quicker and likely why Dreamhost's load times are slower (because they offer a narrower tunnel – less bandwidth so slower data transfer speeds).
MySQL Databases
A database is a basically a locker where you store things (which in this case is data).  From our experience using the Personal and Professional Plans, there is only one MySQL database for each install.  So, for the personal plan, there is one MySQL database, for the Professional there are up to 10, for the Business there are up to 25 and for the enterprise there can be 25+ MySQL databases.
Domain Hosting
You can add as many domains as you want to your WPEngine account but you can only have one primary domain per WordPress install.  So, for the Personal Plan you can have 1 primary domain,  for the Professional Plan you can have 10 primary domains, for the Business Plan you can only have 25 primary domains and for the Enterprise version you can have as many domains as you want (but it'll cost you;)).
Parked Domains
It's not explicitly stated but it seems as though you can park an unlimited number of domains on WPEngine.  FYI, a parked domain is one that has been added to your WPEngine account but isn't associated with any WordPress website. You can redirect these domains to your primary domains if you would like.
SubDomains
It's not specifically stated but it appears that you can have an unlimited number of subdomains on WPEngine.  If you have your primary domain as a WordPress install and you want a subdomain to be associated with a WordPress install as well – you must have the ability to have more than one WordPress install on your WPEngine plan (so you at least need the Professional Plan in order to have a WordPress install be connected to your subdomain).
Email Accounts and Email Storage
WPEngine doesn't offer support for email accounts.  Prior to signing up with WPEngine we weren't aware of this, but through this WPEngine review, we found out that you have to pay for a solution like Google Apps in order to have an email address associated with your domain. We personally think that this is a good idea because a host is never going to match the functionality and security that can be offered by top shelf email providers like Google or Yahoo.
Google Apps gives you the ability to create email addresses associated with your domain (example@yourdomain.com) and to have 30GB worth of email storage and file syncing/sharing (at the most basic level).  You are also given access to other features that Google offers including "video and voice calls, integrated online calendars, online text documents, spreadsheets and slides, easy to create project sites, security and admin controls, and 24/7 phone and email support."  You need to create this outside of WPEngine's dashboard and you should start off with a free trial but once that ends it costs $5 per user per month OR $50 per user per year.  We would highly recommend creating a Google Apps account – just the fact that you get a top of the line email service as well as a file syncing and sharing solution (much like Dropbox) makes it completely worth it.  Check out our guide on connecting your domain with Google Apps.
Customer Support and Telephone Support
Throughout our time using WPEngine for clients and for ourselves, we've needed WPEngine's help on multiple issues that we've run into.  Some of these issues were minor while others were mission critical and were losing the company money every second the issue was in place.  For mission critical issues, they've always provided a solution or a way to find a solution and we've never been dissatisfied with the speed or quality of their response – which is really saying something because some issues you can run into with WordPress websites are not simple.  Regardless the severity of the issue, they did a fantastic job and we were always under the impression that we were speaking with an expert.  You can call them 24/7 (if you get the Professional level of hosting and above). Otherwise, they have a live chat plugin (during certain hours) and a ticketing system that is available any time to respond to any questions/issues that you may have.
Guaranteed Uptime
WPEngine credits your account at "5% of your monthly bill for every hour of Service Level Agreement (SLA) violation (i.e. downtime), up to a maximum of that entire month's bill." We've never had to deal with any SLA violations with WPEngine but this is really good to know because it provides some additional comfort.  
Money Back Guarantee
They offer a 60 Day money back guarantee.  We don't think you'll need this.  Try them out and see how awesome they are.  The only situation where we can envision you wanting your money back is if you decide that you don't want a business class hosting solution and instead just want to mess around with your site and put it up on a shared host like Dreamhost.

Control Panel
WPEngine has a simple and full featured web based control panel.  WPEngine provides game changing tutorials for different actions that you can take throughout their Control Panel.  These tutorials just add to the world class support that we've come to expect from WPEngine.  These are bar none the best tutorials that we've seen in relation to a web host.  They have a service that guides you through different features that you can use on the site (they walk you through taking a backup, restoring a backup, adding an sftp user, contacting support etc.).  The WPEngine tutorials talk to you and tell you where to click and continue on throughout the process even if you change the page – making on-boarding a lot easier.
Neither option is offered with WPEngine.  WPEngine is in the WordPress hosting business and focuses on that only – they do not sell or offer domain names or domain privacy protection.
SSL Certificate
You must have at least the Professional Plan ($99/month) in order to add an SSL certificate.  The installation of an SSL certificate allows your site to have a secure https connection (which is required for certain payment plugins to work).  You can buy and install a 3rd party SSL certificate or you can by one directly through them (making the installation process easier).  Purchasing an SSL certificate from WPEngine costs $49/year for a standard one or $199/year for a wildcard one (a Wildcard SSL certificate covers any and all subdomains of the main domain whereas a Standard SSL certificate only covers one domain name).  FYI – a secure connection means that the data sent between your users and the server holding your website are encrypted – making it extremely difficult to decrypt that data (if it's intercepted) and use it without the encryption key that's on the server (which makes it much safer to send credit card numbers and sensitive personal information).
Unique IP Address
You get a unique IP address for free with any of the plans. If you were to choose Dreamhost's Shared Hosting producct, you would have to pay an additional $5.95 per month for a unique IP address.
WordPress Hosting
When you sign up for WPEngine, a WordPress installation is automatically created for you.  The username and password that you used to initially sign up can be used to login to your WordPress Admin dashboard.  You just have to point your domain to that installation in order for it to be live for the world to see. It's important to note that WPEngine's automatic WordPress installation saves you a step in our launch guides!  Compare this to Dreamhost, where you have to manually install WordPress (you have to select the domain that you want to create a WordPress site for, click a button to install WordPress on that domain and then fill out the WordPress setup form (which includes WordPress Admin credentials).
Backup and Restore*
WPEngine gives you the ability to backup and restore your site with a single click. Great for those Oh F**K situations!  WPEngine takes a daily backup of your site(s) automatically. So, if your database crashes OR you mess your site up somehow, then restore the site from an automatic backup that WPEngine made earlier that day. We've been in situations where we've had to restore aspects of a site using a backup – this is invaluable. The Backup and Restore functionality offered by WPEngine is production level – meaning that you can rely on these backups and it's very quick and easy to restore the site to a recent backup.  Dreamhost doesn't offer any backup or restore capabilities that come close to production level.  It takes off a ton of pressure having that safety net from WPEngine for unforeseen circumstances.
Staging Area*
WPEngine provides you with the ability to create a staging area (development environment) for your site with a single click.  Their staging area is a copy of the live environment and is a place where you can safely test out new plugins or updates to see what impact these plugins or updates would likely have on the production site before making those changes to the live site. You can copy the staging site over to the live site after you've tested the changes that you made with a single click as well.
For those uber technical whizkids, while researching for this WPEngine review we discovered that the staging area isn't an exact copy of the production environment.  According to a Hacker News article, the difference between the two environments is that their caching technology is not on in the staging environment while it is on for the production environment.   In the article, a WPEngine rep describes the reason for this being that the staging area's purpose is to "stage content and test new plugins and theme(s)" (so you don't want plugins and themes to be cached). In certain instances this can pose problems, because certain updates may be buggy when the caching technology is present – which makes the staging area an imperfect representation of what you can expect from your site in production.
Version Control*
Version Control automatically tracks versions of different files that you create and gives you the ability to easily revert to other file versions.  It also enables you to organize your code into different branches so that you have the live site source code on one branch and an experimental branch on another (which helps a lot when developing new parts of a website because it gives you an easy way to push changes to the development site to test and then to the live site once those changes have been fully vetted).  WPEngine uses Git for version control by default.  They create a Git Repo for your site automatically, whereas with other hosting providers, you would need a developer to manually do this. (*According to their site, they are the only managed WordPress hosting provider with end to end version control capabilities). Lee and I being developers, we love this sh*t.
Content Delivery Network
WPEngine offers this for $19/month OR FREE in any level above and including a Professional Plan. "Your images, CSS, and other files get served from one of a dozen data centers around the world, whichever is closest to where each visitor is located"
We like to compare a content delivery network to shipping a product to a consumer.  Let's say that you order a set of Beats Headphones from an online store.  The Beats Headphones from Store 1 are located 10 miles from your location whereas the Beats Headphones from Store 2 are 800 miles from your location.  Based simply on the location, which set of headphones will reach you faster? Store 1 of course.  This is exactly the same thing that happens in websites.  Let's say that the images, css and other source code files for your website are located in a server farm 10 miles away and the images and source code for your competitors website are located in a server farm 800 miles away.  It takes a much longer time for those images and other source code files to be transferred to your laptop or phone or desktop computer when they are located in a server farm 800 miles away.  What a content delivery network does is that it keeps copies of your website assets in different locations across the world.  So, if you want to view your website in Ohio (where Lee and I are from ;)) WPEngine will find the server farm nearest to you and serve up your website assets much faster than if it didn't have a content delivery network and just used one server farm.  WPEngine uses a CDN that has locations in North America, Europe and Asia – check out the different locations here.
International Data Center
Yes they do have International Data Centers including centers in the UK, Japan or US.  WPEngine allows you to select the data center that is closest to your audience – so that your users have the best possible experience.
Managed Upgrades
WPEngine handles managed upgrades as well.  So, security updates and WordPress codebase updates are applied to the site automatically. If WordPress comes out with a security fix or bug fix, WPEngine tests out that update and then applies it to your site.  WPEngine also upgrades the software that they use to make sure your site performs at the highest level.  They make upgrading your site safe and easy.
Caching
WPEngine "has proprietary technology called EverCache built into their service that manages page caching, database caching and object caching for you." Their caching technology is free, fully managed by them and does not require a WordPress plugin.  Caching speeds up your site by limiting the number of requests that need to be made to servers to get certain files or make requests to the database.  
The following caching techniques are used by WPEngine
Database cache – this functionality allows you to reduce the number of calls to the database by storing query results in memory and then using those results rather than having to call the database every time. This speeds up your site because it "reduces the time that is spent accessing the database."
Object Cache (if it is enabled) – this feature allows you to speed up your site by storing objects to limit the number of costly database calls made.
Page cache – "This refers to the complete HTML output that is generated by visiting a specific URL on your site. This output is stored, and the stored copy is re-served to subsequent visitors for a period of time."
Firewall
WPEngine has a firewall built in. They "block tens of thousands of known attacks, and update their system every day to ensure that the newest attacks are blocked right away." We love this 🙂
Malware Scanning
This functionality is a part of the WPEngine service as well. They "scan for and fix hacking attempts." They do everything that they can to prevent someone from hacking into your site but if a hacking does occur they will fix it for FREE. Scanning for malware is one thing but fixing that discovered malware is a big pressure that you can take off of your shoulders
Architecture
They provide an Enterprise Architecture specifically built for WordPress.  WPEngine's architecture is a "robust, secure, performance-oriented WordPress architecture."  WPEngine knows the best hardware and software to use for their servers.  They know the different server configurations that are most secure for you and that make your site as fast as possible.  Bottom line – they know their stuff.  They bust their buttocks-es to make sure that your WordPress site is in the absolute best position to succeed.
Migrating to this Host
WPEngine provides Migration Instructions. If you currently have your site somewhere else and would like to step up your game and would like to join the big leagues, WPEngine has a checklist to make your life a ton easier and to save you the money of needing to get a web developer to transfer your site over. We followed their instructions to migrate WPLauncher from Dreamhost to WPEngine – it worked perfectly.  Depending on the site, a migration can cost you upwards of $500 – so this and this alone makes it worth your money to spend the extra money and choose WPEngine as your host.
Leaving this host
There are no long term contracts.  They "earn your business every single month."  They will give you a complete copy of your site if you decide to leave (MySQL database, source code and all site assets).  You will likely need to get a developer to migrate your site to a new host (or try to follow WPEngine's Migration Checklist and just apply it to your new host) but they couldn't make it any easier for you to get everything together that you need for a smooth transition.
WordPress Multisite
They only offer this feature for the Professional Plan and above. We've had one experience with WordPress Multisite and we had a hard time grasping how everything fit together and didn't enjoy it.  But, feel free to do whatever your heart desireth.
SSH Access
There is none.  This is a big drawback because we were trying to do certain things via the terminal and were unable to accomplish it.
Giveaways
None.
Description
High End Managed WordPress Hosting.  
Steps to Launch
It takes 18 steps to launch a site on WPEngine.  This is compared to Dreamhost which requires 19 steps (because they already have WordPress installed when you sign up).
Time to Launch
Overview
Based on our personal experiences with WPEngine and all of the high end features offered by the different WPEngine plans, we definitely give WPEngine a 5 star rating. But, as we described in the beginning, our WordPress hosting platform, WPLauncher, can offer the same quality hosting, with the same feature set at a lower price point. We think that if you're expecting a lot of traffic to your site in the not so distant future, if you want more of a white glove level of support, if you want faster site load times and if you want automatic daily backups and the ability to easily restore you website to a previous version you'll want to go with WPLauncher. WPEngine is specifically optimized to run WordPress sites as fast as possible, has an enterprise level architecture, and offers 24/7 WordPress expert support, their plans start at $29/mo. per website. Notice that the key phrase here is PER WEBSITE, as you'll have to pay for hosting for EACH website you host on WPEngine. WPLauncher.com, on the other hand, has a 1 website plan with the same feature set for $16/month. You can feel safe that visitors to your site will have a great experience no matter how successful your site becomes if you use either WPEngine or WPLauncher!
Mission Control Disclosure:
We think of our relationship with our users as just that – a relationship.  As such, we try to be as honest and transparent as possible about how we are able to spend our time creating these free launch guides. We give our our launch guides away for free because we make money by referring our users to services that we believe in and that we use.  Our recommended products/services come at NO additional cost to you.  In other words, you are buying the products/services at the same cost as any other user but you are supporting us by purchasing products after clicking on our links (because we get a small kickback).  On this page, for example, we refer you to use Google Apps, Dreamhost and WPEngine. We would never suggest a service that we have had bad experiences with in the past and are always looking to improve on what we recommend in order to give you access to the best possible products and services.  You help us do our thang and we are really grateful for the opportunity 🙂