We've been using Dreamhost for the past 4+ years and have been very satisfied with its quality and with its ease of use. Our experience using Dreamhost Shared Hosting and it's different features for our clients/ourselves makes our Dreamhost review an insider's look into using the many features that Dreamhost provides.  Dreamhost's Shared Hosting product is not meant to be a production level hosting solution but it is inexpensive and the ability to create an unlimited number of sites makes it a great host to use during the development stage or for clients who aren't expecting very much traffic/aren't taking their website very seriously.
Our typical flow is that we start building our product on an inexpensive hosting solution like Dreamhost's Shared Hosting. Then, once we want to go live, we migrate the site over to WPEngine's hosting solution. This saves us or our clients some money while we're in development. We have built client sites on both Dreamhost and WPEngine depending on the client's dedication to their website.  For those of you who want to be in the fast lane, it's also important to keep in mind that using WPEngine allows you to skip a step in our launch guides. You can check out our complete review of WPEngine for more information.
To give you a good overview of Dreamhost's Shared Hosting product, here's a chart outlining the various features that Dreamhost offers.
We're going to go through ALL of the different features listed in the chart above and share with you some of our experiences and thoughts after building 50+ sites on Dreamhost as well as some detailed information from tests that we've run to give you a better idea of what you're getting when you purchase hosting from them.
Cost
Dreamhost's Shared Hosting sets you back $8.95 (if you pay for 2 years worth of hosting), $9.95 (if you pay for 1 year of hosting) or $10.95 if you pay month to month. To reiterate, this is NOT a per website cost – you can host an unlimited number of WordPress sites on Dreamhost at those prices. As described earlier, we have about 50+ websites live on Dreamhost.  Some of the sites that we've built are custom ones built with HTML, CSS, JS, a PHP model view controller framework and a MySQL database and use Git for version control.  However, most of the sites that we have built on Dreamhost are WordPress sites.
Disk Storage
Dreamhost offers unlimited storage space. If you don't know what disk storage is, think of it as a locker where you can put as many images or other source code files in it as you want.  Dreamhost provides the following disclaimer in regards to its claim to offer unlimited storage space; "if your site isn't well optimized and is causing issues for others on your shared server (either because it's pounding the CPU, hogging RAM, or doing tons of disk I/O)" they will talk to you and figure out a solution that is more equitable for them. However, it's important to keep in mind that we have 50+ sites hosted on our shared hosting account and 40 of those are probably WordPress sites and we haven't been accused of "pounding the CPU, hogging RAM or doing tons of disk I/O."  In total, we're using 15GB of space.  So, unless you plan on doing something crazy or storing and streaming feature length films on your site, you shouldn't have anything to worry about regarding this disclaimer.
Load Times
Load times for websites on Dreamhost's Shared Hosting solution aren't nearly as good as WPEngine hosted site load times.  However, like we said above, Dreamhost is perfect for certain use cases – for example in the development phase or when you just aren't willing to pay more than $10 per month.  Again, we use it for testing and development until we're ready to deploy the site to production. Check out the charts below for a breakdown of the load times of a site hosted on Dreamhost's Shared Hosting.  The site that we tested is not particularly image heavy – it's a typical website with a good mix of both text and images. We used a website called LoadImpact.com to run these tests.
Site Load Times Without Concurrent Users
Results From Pingdom.com for a Site on Dreamhost's Shared Hosting Product
Amsterdam – Average – 9.79 ALL points (10.73,9.85,9.53,9.53,10.01,9.11)
New York – Average – 7.59 ALL points (5.92,5.92,11.03,7.5)
Dallas – Average – 6.25 ALL POINTS(6.2,6.26,5.5,7.06)
Total Average – 8.15s
As you can see from the table above, the average load time for this Dreamhost hosted website across the three different cities is 8.15 seconds.  The load time in Dallas is the quickest – likely because Dreamhost's server farms are located in California (the servers are closer to the user so the load times are quicker).  In comparison, WPEngine's average load time across the same three cities was 2.69 seconds (for their Professional Plan) or 3.48 seconds (for their Personal Plan).
Site Load Times With Concurrent Users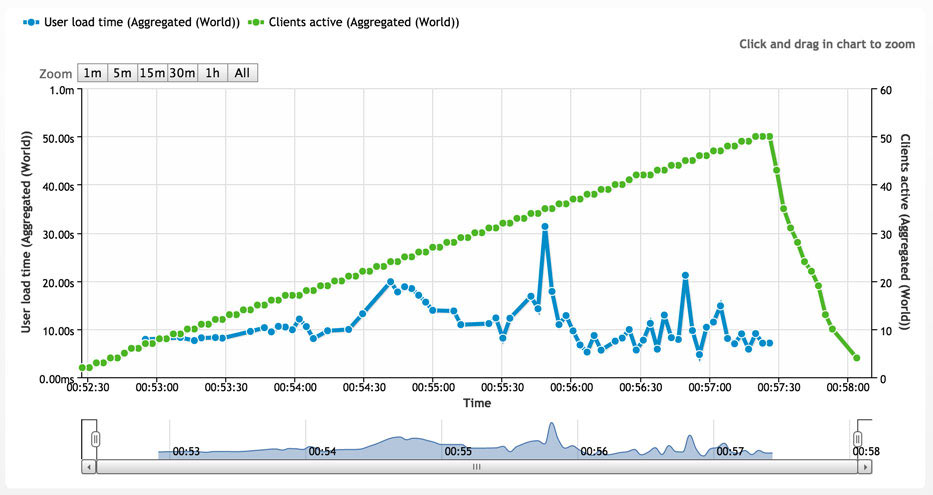 The graph above shows the site load time as the number of concurrent users climbs to 50.  The graph shows that the maximum load time experienced by a user was just over 30 seconds.  The same test was run on WPEngine's Personal Plan and the peak load time experienced was 7.5 seconds and for the Professional Plan the highest load time was 4.5 seconds. What is impressive about this graph though, is that the servers start getting used to the concurrent users and the load time starts to decrease at about 35 concurrent users.
FYI – if you're planning on using Dreamhost's Shared Hosting for your production (live) site, keep the following in mind; site load time is a part of Google's algorithm in figuring out a page's ranking – ie sites that load faster, rank higher in Google.  Lee and I (the WPLauncher brothers) try to do everything that we can to give our users an amazing experience and we try to optimize our site(s) as much as possible for search engines (in an effort to hopefully get some additional search engine traffic).  WPEngine wrote a Fast Page Load article that describes how "Google loses 20% of their traffic for each additional 100 milliseconds it takes a page to load." For the above reasons (and many others), we think that a faster site will drive more sales/traffic and we want you to maximize your site's earning/viewing potential.   So, if you are planning on using Dreamhost Shared Hosting as your production hosting solution, then we recommend that you reconsider your decision and read our super duper in depth review of WPEngine.
Bandwidth
We like to describe bandwidth via an analogy with a tunnel with cars traveling through it. The size of the tunnel is considered to be the bandwidth and it restricts the number of cars (or data) that can travel through it.  According to Dreamhost, they offer unlimited bandwidth.   Just an FYI – we've used about 9.4 GB worth of bandwidth during our billing last cycle. Here's what you're actually getting from Dreamhost's Shared Hosting product as the number of concurrent users goes from 0 to 50.
Bandwidth Test – LoadImpact.com results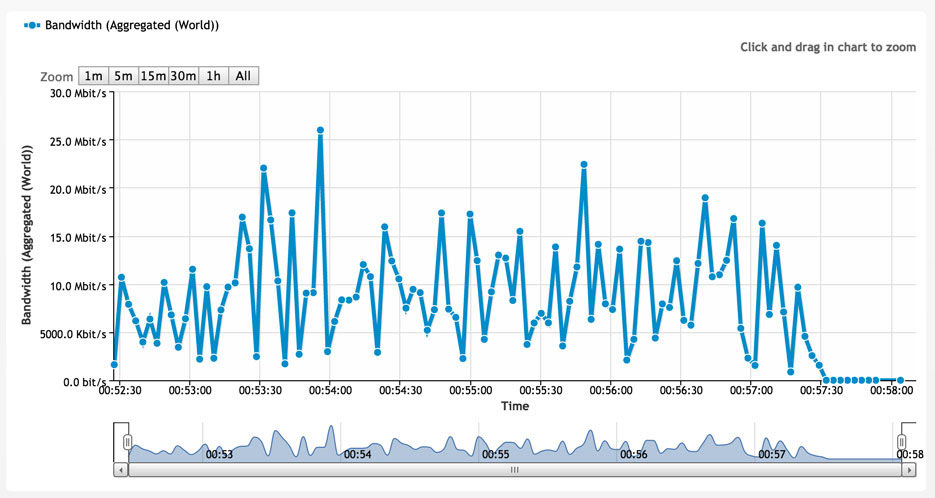 As the graph above shows, the max bandwidth with 50 concurrent users is a little over 25Mbit/s on Dreamhost's Shared Hosting while WPEngine's Personal Plan offers 60 Mbit/s.  So, Dreamhost offers one half of the bandwidth of WPEngine, which is why we prefer using WPEngine for production environments.
Data Transfer
Dreamhost also offers unlimited data transfer. However, they offer the same disclaimer as they used for the disk storage "if your site isn't well optimized and is causing issues for others on your shared server (either because it's pounding the CPU, hogging RAM, or doing tons of disk I/O))" then you may have to upgrade to a different level of hosting.  FYI – data transfer is the amount of data that is transferred from your site to the user.  In other words, we're going to use the comparison that we used above of a tunnel with cars traveling through it.   The  number of cars that can travel through the tunnel represents the amount of data that can be transferred. If your tunnel is narrower (less bandwidth), it takes longer for data transfer to occur (which is likely why Dreamhost's load times are slower and why WPEngine's load times are quicker (because WPEngine offers a wider tunnel)).
MySQL Databases
Dreamhost's Shared Hosting includes an unlimited number of MySQL databases.  Dreamhost's only condition on this unlimited claim was to try to keep your databases optimized and no larger than a few gigabytes in size.  We've created 50+ MySQL databases in Dreamhost and we haven't met this condition.  Creating a database using their web portal is super easy to do.  You can create a new database by going to the MySQL Databases link in the top left corner, scroll down to the bottom of the page and click on the Create a New MySQL Database.  It's even easier to add a MySQL database when using the WordPress one click install feature – it adds a new database in one click.
Domain Hosting
Dreamhost offers unlimited domain hosting.  This just means that you can have an unlimited number of domains and websites on your account.  This is the main reason why we have Dreamhost and we love this feature and take full advantage by having 50+ domains hosted on Dreamhost.  It's incredibly easy to add a domain name. It takes two clicks and filling out a form and you're set!
Parked Domains
As you can see from the chart above, Dreamhost allows you to have an unlimited parked domains. This just means that the domain has been added to your Dreamhost account but isn't associated with any website.  We have 10 domains parked on our account right now. You can redirect parked domains to other domains via Dreamhost as well.
SubDomains
You can have an unlimited number of subdomains associated with your Dreamhost Shared Hosting account.  We have used this a lot for the creation of development sites for clients.  This is also valuable if you want to have a blog on a subdomain and the www version to display the site itself. This is super easy to accomplish via Dreamhost.  It's the same process as adding a domain – takes two clicks and filling out a form and you're good to go!
Email Accounts and Email Storage
Dreamhost offers an unlimited number of Email Accounts and unlimited Email Storage to be associated with each domain specific email address that you host.  An example of a domain specific email address is astronaut@wplauncher.com (example@yourdomain.com).  The unlimited email storage claim is technically correct but you have to select the max disk usage for that email address and it must be <100,000 MB (if you reach the full allotted amount emails will bounce) – so it's not exactly what you think when you think of unlimited.  In addition, their email system is not something that you would want to use everyday – the emails are visible via a software called Squirrel Mail.  Don't get me wrong, it's super easy to create an email address on Dreamhost and Squirrel Mail works in terms of sending and receiving email but it is not as secure as the big boys and is lacking quite a bit of functionality if you have grown accustomed to Gmail or Yahoo Mail.  For example, Dreamhost archives messages after a certain period of time in a folder, so you can always access those messages, just not through the email application; which isn't nearly as seamless as using big email providers. If you don't want to pay to have a legitimate and secure email provider, if you don't plan on using the email address very often or are apathetic about the whole thing – it works great.  For example, we currently have 15 email addresses that we set up on Dreamhost that fit this bill.  They are all associated with sites that we don't take very seriously or we just don't want to pay a monthly fee to have a full featured email solution.
However, if you plan on using your email account regularly, if you want to make sure your emails are secure, if you want to be able to use the different functionality offered by the "big boys" like Google and Yahoo, and if you want a faster and more performance oriented experience, we would recommend using Google Apps to create your domain's email addresses.  The Google Apps product allows you to have emails with domain specific endings (example@yourdomain.com) as well as to take advantage of all of the other features that Google offers including but not limited to "30GB of online storage for file syncing and sharing" (this includes email storage), "video and voice calls, integrated online calendars, online text documents, spreadsheets and slides, easy to create project sites, security and admin controls, and 24/7 phone and email support."  If you decide that you want to use Google Apps, we would really appreciate it if you signed up for Google Apps through a link that we provide (rather than through Dreamhost) because you are supporting us in the process (we would receive a small commission for that recommendation at no additional cost to you).  Through the link that we provide above, you should be sent to Google and will need to complete the sign up flow there.  You should start off with a free trial but once that ends it costs $5 per user per month OR $50 per user per year.  During Dreamhost's domain creation process, you want to check a box to create a Google Apps account for that domain.  This updates the MX records associated with that domain so that they will point to Google Apps (otherwise you'll have to manually change these MX records).  We would highly recommend using Google Apps because you can continue using their services if you switch over to WPEngine for production (and you won't lose any of the emails that you received while on Dreamhost). Also, when you look at the cost and what you're getting – it's worth it just for the file syncing and sharing possibilities (which you can think of like Dropbox) which is additional to the functionality and security of the email service that they offer. Check out our guide on connecting your domain with Google Apps for more information.
Support
You get 24/7 unlimited Live Chat, Email,  and Twitter support with a Dreamhost Shared Hosting account. We've used the live chat feature more than anything and have been very happy with the support that we received.  We've also used the email support and have been happy but we think of the live chat as more of an expedient support option and the email is more for issues that we're willing to wait a bit on. As a result of our Shared Hosting Dreamhost review, we found their Twitter support handle, @dreamhostcare.  We haven't tweeted at this Twitter handle but I'm sure it's a really effective way to get their attention and help.  We also have checked their Twitter status handle for updates if we're experiencing issues and it has been very helpful – @dhstatus.  Looking through our history with Dreamhost, our main issue requiring support was due to a certain IP address being blocked because of too main failed login attempts using an SSH user.
Telephone Support
Dreamhost doesn't provide telephone support with the basic Shared Hosting product.
Guaranteed Uptime
Dreamhost guarantees 100% uptime.  We have had very few issues throughout our time using Dreamhost but I'm not sure if we've had 100% uptime? But I guess if we can't remember if there was any downtime, then it doesn't matter.  This is a good thing regardless whether you actually experience 100% uptime or not (because if you experience 100% uptime then that's gravy but if you don't then you can tell them that they guaranteed 100% uptime and you can make sure that they make it up to you in some way).
Money Back Guarantee
You have a 97 day money back guarantee with Dreamhost.  Of course, we don't think you need this but it is an awesome feature because other hosts don't offer this much time.  For example, WPEngine only offers a 60 day money back guarantee.  Dreamhost believes in their product that much that they're willing to give you that much time to evaluate what you're getting from them.
Control Panel
They have a web based control panel.  It's a little old stylistically but it works great.  They just rolled out a redesign of their homepage and sign up flow so we wouldn't be surprised if this gets a facelift very soon. Dreamhost offers a wiki at wiki.dreamhost.com that we've used a lot to find out how to do certain things on Dreamhost's control panel and to find different resources.  If you have any trouble accomplishing any tasks on their control panel (and can't find it on their wiki), you can just ask a representative through their different support options (live chat, email or twitter support).
Free Domain
You get a free domain from Dreamhost just for signing up!! Think of it as a just wait there's more bonus 🙂  But seriously, this ain't nothing because a domain typically costs about $10 for a year of registration costs.  And, you need a domain for your site to be visible to the world. So, essentially, you're getting $10 back when you sign up for Dreamhost's Shared hosting.  It's important to note that Dreamhost doesn't support the registration of every single domain name extension though.  For example, if you want to buy a domain name with a .ly ending, like bit.ly, you won't be able to do it through Dreamhost.  Therefore, you'll need to purchase a domain like that through a different domain registrar (we'll show you how to use GoDaddy in a later step).  BUT, if you want to buy a .org, .com, .net, .info or one of the 200 extensions that they support, then you can register your domain with Dreamhost directly!
Free Domain Privacy Protection
Typically when you register a domain on a domain registrar, it costs extra money to get domain privacy protection – like an extra $8 per year on GoDaddy.  This is a great bonsu that prevents prying eyes from seeing that you own the domain, seeing your address and seeing your email address.  If you sign up for Dreamhost, you get this feature for free!  So, you think of this as almost another month free (80% of your second month will be free ;)) of Dreamhost hosting.
Secure HTTPS Connection (Installing an SSL Certificate + Unique IP Address)
A secure connection means that the data sent between you and the server holding your website are encrypted – making it extremely difficult to intercept and decrypt that data and use it without the encryption key that's on the server (which makes it much safer to send credit card numbers).  If you want to give your users a secure connection via https, you need to get a unique IP address for that domain in addition to installing the SSL certificate.  Dreamhost gives you the ability to do this; you can install a 3rd party SSL certificate or their own SSL certificate and can make your website have a unique IP address.  Once you have those two items done, it's important to note that forcing a secure connection is not something that can be easily done by a non-technical person – you need to use some code to do this.  We've personally installed both a third party SSL certificate and a bunch of the SSL certificates that Dreamhost sells for $15.  Installing their SSL certificate is a lot easier because you just buy it and respond to an email and it's ready to go.  Installing the third party SSL is quite a bit trickier and the certificate itself is usually more expensive than the one that you can buy from Dreamhost.   Adding a unique IP address for a specific domain name on Dreamhost costs $5.95 per month or $59.95 per year.  So, all in, you're looking at $75 extra a year to give your users a secure connection.
WordPress Hosting
For Dreamhost's Shared Hosting, it's important to remember that they don't have WordPress installed on your domain by default (so you can't skip that step on our Launch Guides like you can for WPEngine).  However, they have a one click WordPress installation process.  In the interest of total transparency, their one click installation process actually takes 3 clicks, because you need to select the website that you would like WordPress to be installed on, choose whether you want a Deluxe install or not (we prefer not) and then click the submit button to install WordPress.  But, it is dead simple and much much easier than manually installing WordPress.  We will walk you through this process on Step 3 of our Launch Guides.  Once WordPress has been installed on your domain (example.com), you have to fill out a form on your domain and click submit (this names the website and will create the admin username and password that will allow you to access the WordPress dashboard).
Backup and Restore*
Dreamhost has limited Backup and Restore capabilities.  Neither feature is what you would want to rely on for a live website but it's not nothing – we actually weren't aware of this feature until completing this Dreamhost review.  It's pretty great to have this functionality for development sites and we've used the Backup feature a couple times.  However, we typically just connect via FTP to our site and download the source code and then connect via PHPMyAdmin and export the database (because we have more faith in this process).
You can make a full backup of your Dreamhost account very easily by going to Billing & Account and then Backup Your Account.
We haven't personally used this feature but found the following information related to restoring specific domains at http://wiki.dreamhost.com/Domain_Restore:
"The Domain Restore feature is found in the Manage Domains section. Each domain listed against your account has a restore button on the right hand side. Click this to see the details of the feature. Don't worry, it won't do anything to your domain.

Do note though that DreamHost make no guarantees at all for actually backing up your data so personally I wouldn't rely on this. It is strongly recommended that you backup all of your web and email to another site. You can also use the backup user too but again, I don't think DH provide any service agreement for this data. If you are backing up for yourself, don't forget to regularly dump and backup your SQL databases too.

You seem to get very little control over what has been backed-up or when so restoring is also somewhat hit-and-miss.

In most cases, if the automatic restore fails we are able to try a manual restore. Let Dreamhost support know the date you're looking to restore and they will be happy to see what they can do."
Staging Area*
Dreamhost does not have a staging area.  A staging area is a copy of the live site where you can safely test out new plugins or updates in order to see what impact these updates would likely have on the live site.  You can build a staging area yourself by copying the WordPress install and the database and putting it on a separate domain though. You definitely need technical know how to do this though.
Version Control*
Version Control is a way to automatically track versions of different files that you and other users create and to easily revert to other file versions.  Version control also allows you to organize your code into different branches where you have substantially different file versions (which helps a lot when developing new parts of a website and wanting to wait to push those changes to the live site until they've been fully vetted).  It's a pretty technical thing and is important for you to know if you ever have a developer working on your site but we want you to know that Dreamhost offers support for this capability.  You have the ability to create Subversion Repositories.  In addition, they have installed Git (a version control solution) on their servers by default so if you know how to work with Git Repositories you can easily do so using their hosting product.
Content Delivery Network
A content delivery network is a network of servers that delivers content to your users in the fastest and most efficient way possible. A content delivery network is not included in Dreamhost's shared hosting product.  However, you can add an extension called the DreamSpeed CDN or DreamObjects but you have to pay to use it. It costs 12 cents per gigabyte (GB) used in the US and Europe and 19 cents elsewhere.  As of this writing, we were being offered a special price of 2.5 cents per GB after a free 30 day trial – so you may pay substantially less than 12 cents per GB.
International Data Center
They currently only have servers in and around the Los Angeles area that hold your data.
Managed Upgrades
WordPress makes bug updates and feature updates between different WordPress versions and Dreamhost updates those WordPress versions automatically.  They also manage the upgrade of their servers.  Dreamhost's Shared Hosting solution isn't explicitly focused on WordPress sites though.  So, attempts are not made at improving security and performance of WordPress sites specifically unlike WPEngine (which is focused on WordPress sites).
Caching
Their shared hosting product doesn't offer nearly as many caching features as WPEngine.  Dreamhost has a tool called Page Speed Optimization that is an apache module that helps the browser determine whether to use a cached version of a file or to pull the file from Dreamhost's server.  This isn't something that they advertise when selling their product and it isn't nearly as substantial as the caching technology that WPEngine uses.  If you want to have caching features similar to that of WPEngine, you need a Plugin to enable caching of the different pages of your site and objects in your code.
Firewall
We couldn't find any information about whether they offer a firewall or not (although I would think that they do have a firewall in place).  We contacted Dreamhost for comment but haven't heard back.
We have experienced several security settings that they do have in place, including limiting the number of failed attempts for SSH and FTP connections.  For example, if you have a certain number of failed attempts when connecting to your website via SSH or FTP/SFTP your IP address will be blocked.  This was annoying when it happened to us but it is a pretty great way to ensure that a bot isn't trying to hack into your file system.
Malware Scanning
We couldn't find any information related to Dreamhost conducting malware scans (although I would venture to say that they do this).  We contacted Dreamhost for comment but haven't heard back.  It's important to note that WPEngine on the other hand, does conduct malware scans AND they will fix your site if a hacker has compromised your site.
Architecture
Dreamhost Shared Hosting means that your site is sharing a server with other users' sites.  This architecture is not specifically built with WordPress in mind; it's built in a way that allows Dreamhost to have a bunch of users with as many sites as they want in a way that allows Dreamhost to still make money.  Your site will be on a shared server which has not been built to ensure the best possible performance and the highest level of security.  As a result, the performance and security doesn't come anywhere close to that of WPEngine.
Number of WordPress Installs
You get an unlimited number of WordPress installs.  It's important to note that "if your site isn't well optimized and is causing issues for others on your shared server (either because it's pounding the CPU, hogging RAM, or doing tons of disk I/O)" then they will talk about upgrading your hosting solution.  The number of WordPress installs that you can have is a primary reason why we use Dreamhost. We can create an infinite number of WordPress sites for $8.95 per month.
Traffic Per Install
Dreamhost provides an unlimited amount of traffic per install.  However, again if your site isn't well optimized and is causing issues for others on your shared server (either because it's pounding the CPU, hogging RAM, or doing tons of disk I/O)."
Traffic Overage Charge
Because there is no limit to the amount of traffic that you can get, there is no traffic overage charge. However, as explained multiple times above, "if your site isn't well optimized and is causing issues for others on your shared server (either because it's pounding the CPU, hogging RAM, or doing tons of disk I/O)."
Migrating to this Host
Dreamhost offers a wiki explaining how you would migrate your site to them (http://wiki.dreamhost.com/Move_WordPress_to_DreamHost).  As explained in the wiki, you have to manually migrate your site to Dreamhost or have a developer do it for you (which is typical with pretty much every hosting solution).  A quick summary of how we migrate sites is that we connect via FTP into the existing site and download all of the site files in the wp-content directory. We create a new WordPress installation via Dreamhost and then connect via FTP and replace the wp-content directory in the new site with the files from the existing site (making sure that the WordPress version and plugins are the same).  You could export all of the posts, pages, comments etc and then import them on your new host OR you have to connect to the MySQL client (PHPMyAdmin) from your previous host and export the database and then connect to PHPMyAdmin on your new host and import the database.  See our step by step migration guide for more information.
Leaving this host
Leaving Dreamhost is really easy.  You can back up your entire account via the Dreamhost dashboard and you're good to go.  The backup includes "the current contents of all your FTP users, mailboxes, and MySQL databases." If you run into any errors, you can contact support and make sure they complete the backups.  However, getting the information associated with your Dreamhost account is much easier than adding it to a new host (especially if you have 50+ sites on there like us).
WordPress Multisite
In order to have a WordPress MultiSite installation, you have to create the multisite install manually.  There isn't a one click solution in regards to the multisite functionality.  "A multisite network is a collection of sites that all share the same WordPress installation."  If you would like to use WordPress multisite, then you can follow WordPress' instructions on how to accomplish this or have a developer do it for you at http://codex.wordpress.org/Create_A_Network.
Giveaways
You get $100 Google Ad Words Credit for signing up for Dreamhost Shared Hosting. Google Ads are a great way to get more exposure and get additional traffic to your site.  This basically pays for your hosting for the year.
Description
Normal Shared Hosting (Not specifically built for WordPress). Takes a little more work to launch a WordPress site but is quite a bit cheaper than a managed WordPress hosting solution like WPEngine.
Adding an FTP/SFTP/SSH User
When you first add a domain to your account, you automatically add an FTP user OR you can choose to use an existing user. You are given this user's password and its as easy as that. If you would like to edit your user type to make them an SFTP user or an SSH user, then you would click on the Manage Users link in the top left corner of your dashboard, click the Edit link in that row, and select the Save Changes button.
Environmentally Friendly
According to Dreamhost, their business is carbon neutral.  This means that the negative impact that they have on the environment, the C02 emissions resulting from their day to day work and the power used by their servers (which amount to "as much carbon dioxide as 545 average-size homes"), has been "effectively erased" via the purchase of Emission Reduction Credits (a.k.a. "offsets"). You can read more about their environmental efforts on this page.  To see the total amount of C02 emissions that they have neutralized thus far check out this site.
Steps to Launch
It takes 19 steps to launch a site on Dreamhost.  This is compared to WPEngine which only requires 18 steps (because they already have WordPress installed when you sign up).
Time to Launch
Overview
In summation, we like to think of WPEngine as the Mercedes Benz of hosting and Dreamhost as the Honda Accord of hosting. Don't get us wrong, Dreamhost is awesome and we use it exclusively for ALL of our client websites while they are under construction. Dreamhost offers unlimited bandwidth and storage space so it's perfect for hosting an unlimited number of sites with relatively low traffic. Again, Dreamhost Shared Hosting typically runs around $8.95/mo. To reiterate, this is NOT a per website cost – you can host an unlimited number of WordPress sites on Dreamhost at that price.  However, Dreamhost has substantially slower site load times and substantially less bandwidth than WPEngine and no backup and restore capabilities.  As we described above, after we complete development on a WordPress website we will move it from Dreamhost to WPEngine (the plan varies based on the traffic we expect and features that we need).  Bottom line, if you're hesitant to spend $29/month or more and are expecting a low to moderate amount of traffic and great support but not as high of a level of performance then you'll want to go with Dreamhost's Shared Hosting Service.
Mission Control Disclosure:
We want to have a totally open and honest relationship with our users and we want to share with you how we are able to spend our time creating these free launch guides. We are able to provide our launch guides to you for free because we make money by referring our users to services that we use and that we believe in.  On this page, for example, we refer you to use Google Apps, Dreamhost and WPEngine. Our recommended products/services come at NO additional cost to you.  In other words, you are buying the products/services at the same cost as any other user but you are supporting us by purchasing products after clicking on our links (because we get a small commission off of the referral). We would never suggest a service that we have had bad experiences with in the past and are always looking to improve on what we recommend in order to give you access to the best possible products and services.  You help us do our thang and we are really grateful for the opportunity 🙂